The 10-member National Commission on Disability was yesterday launched and will be responsible for improving the quality of life by, among other measures, enforcing the almost two-year-old legislation to protect persons with disabilities.
At the ceremony held at the Regency Hotel, Georgetown, the commission was inaugurated with representatives of disabled persons' organisations from across the country,the ministries of Health, Education, the Guyana Human Rights Association, the Private Sector Commission and organised labour.
The commission replaces a 15-member body which was not backed by law. Several of the commissioners were members of the previous commission before the Persons with Disability Act 2010 was passed by the National Assembly and signed into law by then president Bharrat Jagdeo.
President of the Guyana Association of Women Lawyers Emily Dodson presented several audio copies of a number of laws to the commission. She explained that the decision to make audio copies followed representation made that the visually impaired ought to be catered for.
Parliamentary Secretary of the Health Ministry Joseph Hamilton noted that already members of the commission have been lobbying for the National Commission on Disability to be added to the existing list of constitutional rights commissions."They are suggesting to us, the Members of Parliament, that maybe in the 10th Parliament, when the Constitution Review Commission is established, that we amend the Constitution to allow for the Commission on Disability to be made a constitutional commission," he explained.
President Donald Ramotar, who addressed the formal launch of the commission, emphasised government's commitment to equal and non-discriminatory treatment of differently-abled persons. "My administration is highly supportive of ensuring the equality and integration of differently-abled people in our society," he stated, noting that they deserve to be treated equally, protected against discrimination and supported in achieving their personal goals.
To this end, Ramotar urged greater involvement of the business community and non-governmental organisations.
"There are many persons out there who are willing to lend a helping hand, especially with policing against discrimination against persons with disability and winning over the public to a more understanding and supportive role towards the differently-abled," he said.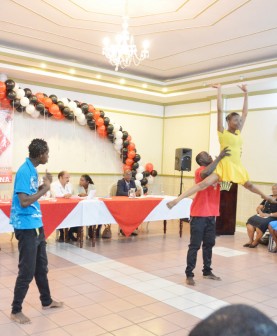 Human Services Minister Jennifer Webster pointed to the need for government and private sector to cater for disabled persons.
She noted "…the need for all public buildings, offices to provide proper access so that persons with disabilities can enjoy the fundamental rights and freedom in our society and which will result in their enhancement."
The commission is intended to promote and protect the rights of disabled persons, educate employers and the public and make recommendations to improve employment practices and the facilitation of assistance to persons with disabilities, so that they may seek legal or other forms of address in case of discrimination or the violation of registration.
The commission is also legally empowered to have a register of persons with disabilities.
Around the Web