Five persons lost their home yesterday afternoon when a fire of unknown origin gutted the upper flat of a wooden house in East Canje, Berbice.
No one was at home when the fire started around 2pm in the front room of the house.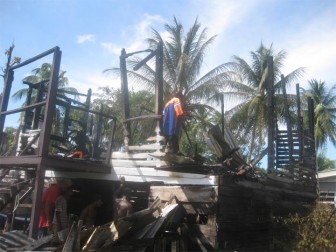 According to Sharon Campbell, who lived at the house, she had gone to New Amsterdam to run some errands and had no idea how the fire could have started.
Juliet Campbell, an aunt who resides in the same yard, said the neighbour next door shouted for Sharon and when she looked out, she was told that her niece's house was on fire. She further said the boys from the area started a bucket brigade and tried to save the house but not much could have been done since it was locked.
They did, however, soak the aunt's house, located at the rear of the burning building, in a bid to avert the fire spreading to the property.
When Stabroek News arrived at the scene, the fire had already been put out with the aid of fire-fighters, who Juliet Campbell said arrived late without any water.
Nothing was saved from the house, which, Stabroek News was told, was well furnished.
Around the Web