A Sophia mother of nine dropped dead last evening after police fired several shots in an open area with civilians, a short distance from her home.
Valerie Gordon, also known as "Mammi," 42, is suspected to have suffered either a stroke or a heart attack at her Lot 90 Pocket Street and 'C' Field Main Road home, where she had a shop and sold food.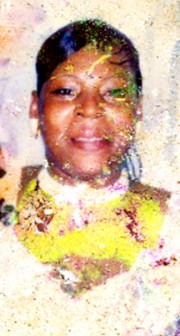 Gordon's family members later accused police of ignoring their appeals for them to transport her to the hospital, saying that they instead mocked them and drove away. The episode occurred after 8pm and comes a day after Werk-en Rust residents accused police of indiscriminate shooting in their area.
"Ow, they treat her worse than a dog, worse than a pig. Is my mother and after she collapse, we beg them, 'tek she to the hospital, please.' But you know what the police said? 'Y'all tek she ya self. That is not we wuk. You could sap she with Methylated spirits.' And then they drive away," said one the woman's daughters, who requested anonymity for fear of being targeted by police.
Detailing the events, a male friend of Gordon, who asked only to be called Clive, said that he was in the shop waiting to be served when they heard several gunshots. "We were in the shop and the police in a van with nuff black clothes (tactical service policemen) with guns fly pass and I walk out to see is where they going. Next thing I heard is rat-a-tat-tat… bare shots at some boys who were on the school bridge. Mammi come running out, cause she think she son out there and just say 'Oh Lord is what is this' and drop—I tell you—drop dead," the man recounted.
He held her as she was falling to the ground and later took her to the Georgetown Public Hospital.
When Stabroek News visited the area where the incident occurred, residents were angry and disgusted over the policemen's actions. They said that it was not the first time that upon entering the area and seeing groups of young men converging on the streets or public bridges that they fired rounds in an attempt to scare them into dispersing. "Seems to me they is be frighten when they see too much boys together, so they would just fire… Is not the first time. I had to cuss them up the other day because my son comes from lessons late and I would not like for him to be caught by a stray bullet." Candace Wilson told this newspaper.
The residents called on the police to act in a more professional manner when patrolling the Sophia area at nights.
Meanwhile, at Gordon's home, her children were in a state of shock on hearing the news of her death. Her youngest child, seven-year-old son Stanley, stood alone in a corner with tears streaming down his face as his other siblings wailed and comforted each other.
Police arrived at the home shortly after and were seen taking statements from the woman's niece, Nisha Henry, and her 19-year-old daughter Ronella Clarke.
Gordon's body was later taken to the Georgetown Hospital morgue, where an autopsy will be done.
Around the Web