Late Amerindian rights activist and minister of government Dr Desrey Fox was last night hailed for her multi-disciplinary character and immense contribution in the development of Guyanese especially the Indigenous peoples.
Her achievements were highlighted at the Ministry of Culture, Youth and Sports' inaugural memorial lecture series on her life and works held at the Umana Yana last evening.
Fox died, from what her autopsy listed as 'multiple injuries',  on December 11, 2009, at the age of 54 following an accident at the junction of JB Singh Public Road and Thomas Road when her vehicle collided with an ambulance.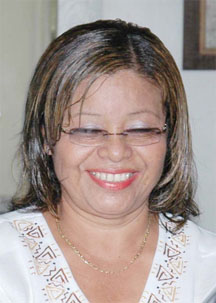 Long-time friend and sister-in-law Dr Raquel Thomas Caesar, Director of Training at Iwokrama delivered an in-depth presentation, more on the personal life of a woman who rose from humble Akawaian beginnings to become a renowned linguist, head of the Amerindian Research Unit of the University of Guyana, academic scholar, and minister in government among other achievements.
"We remember today Dr Desrey Fox for many firsts; in academia, in the sport of weightlifting, culture and creative fields and in the political arena. She was an iconic person and had the 'it factor' … She embodied the intermixing of Guyana," said Thomas-Caesar as she spoke about Fox's life, periodically referring to excerpts taken from several family members, friends and colleagues.
The lecture was attended by a rapt audience that included several of her close friends, academic associates and members of the government. Among them were Prime Minister Samuel Hinds; Presidential Advisor on Governance Gail Teixeira and Minister of Foreign Affairs Carolyn Rodrigues-Birkett.
Born in a small village in the Waramadong Amerindian community, the eldest of seven children, Fox spent her formative and teen years in that community before moving to the capital to pursue high school studies. Because of lack of finances she was forced to return to her hometown but persevered and wrote examinations which she passed and used to apply and study nursing, in the area of rural midwifery, at the School of Nursing in Georgetown in 1973. In that area she topped her class and practiced for a few years.
The former minister also pursued a degree in Sociology at the University of Guyana completing with honours. She went on to complete her master's degree at University of Kent and her PHD, in linguistics, at Rice University becoming then the only Amerindian woman with a doctorate. She spent most of her working life dedicating her efforts at the University of Guyana as Coordinator of the Amerindian Affairs Unit and also Curator of the Walter Roth Museum of Anthropology in Georgetown.
In 2006 she diversified her portfolio turning to politics and became a minister within the ministry of education under the Bharrat Jagdeo administration. There she was passionate about students who were not academically inclined, instead channelling their skills in prevocational and technical vocational areas, skills she said "that would ensure their future survival."  She fought hard to have the city's tertiary technical schools (GTI and GITC) awarded with contracts to build the furniture for schools rather than giving those to private contractors, so that children could learn while earning. She was still at the Ministry of Education at the time of her passing.
Around the Web