GUATEMALA CITY, (Reuters) – A Guatemalan court on Tuesday ruled to extradite the country's alleged top drug trafficker to the United States, as the Central American nation stepped up an offensive against organized crime.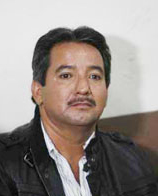 Juan 'Chamale' Ortiz-Lopez, who was arrested in March 2011 and is currently being detained in Guatemala, is charged in a Florida federal court with trafficking tons of cocaine into the United States. He faces a maximum life sentence if convicted.
The Florida indictment argues that Ortiz-Lopez, 42, is Guatemala's most important drug smuggler.
U.S. authorities are also pushing for the confiscation of Ortiz-Lopez's property, including a cable station and a $5 million mansion in Guatemala which is featured in a music video. Ortiz-Lopez is the second alleged drug kinpin in a week that Guatemalan courts have approved for extradition to the United States.
Around the Web