(Jamaica Gleaner) Accusing the Permanent Secretaries Board (PSB) of attempting to muzzle the Office of the Contractor General (OCG), head of the oversight body, Greg Christie, on Tuesday rebuked the board for trespassing on the lawful authority and jurisdiction of his office under the Contractor General Act. The board, last week, expressed "alarm and dismay" at the treatment of a confidential memorandum from the Permanent Secretary in the Ministry of Transport, Works and Housing, Audrey Sewell, to portfolio minister, Dr Omar Davies.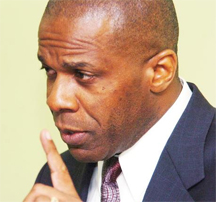 According to the PSB, the action of the contractor general had the potential to undermine the "existing system of governance in Jamaica". The group charged that a consequence of the action by the Office of the Contractor General could "discourage the provision of honest technical advice and guidance to, as well as enquiries of ministers of government, by permanent secretaries and other public officials".
The contractor general issued a sharp response saying he was deeply troubled by the contents of the board's statement. Christie said while he respected the members of the board, his office considered its statement to be "ill-advised and unlawful incursion upon the lawful authority and jurisdiction of the OCG".
He explained that Sewell, who drafted the "confidential" memorandum, invoked the mandate of his office when she complained to the OCG that her public accountability and procurement oversight responsibilities, in relation to the Jamaica Emer-gency Employment Pro-gramme, were being undermined. "Once the OCG's mandate has been invoked, it is important for the PSB to understand that Section 5 (1) of the Contractor General Act makes it abundantly clear that, 'a contractor general shall not be subject to the direction or control of any other person or authority'."
Christie stressed that no one, inclusive of the board, could lawfully instruct his office as to what it should or should not do in the lawful discharge of its functions under the Contractor General Act. Additionally, the OCG boss has made it clear that the extensive powers of a contractor general allow him to secure and to publish information, in the public interest. "Section 18 (4) of the Contractor General Act makes it explicitly clear that not even the Official Secrets Act can be held up as a lawful bar, by a public officer, to refuse to provide a contractor general with information which he demands."
Around the Web