PORT-AU-PRINCE, (Reuters) – A Haitian government panel has urged the president to appoint an interim commander to take charge of former soldiers, a panel member said on Saturday, as the leader of a successful 2004 uprising warned that ex-members of the military could seize power.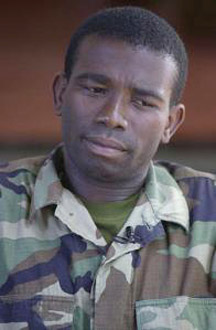 Several thousand former members of the military that was disbanded in 1995 by then-President Jean-Bertrand Aristide after a series of coups, have occupied government buildings and former army camps, defying injunctions from the government to leave.
They are often seen armed and in military uniforms in the streets and sometimes even directing traffic, fueling concerns of instability in a nation still struggling to recover from a catastrophic 2010 earthquake.
A panel appointed by President Michel Martelly to study reviving the military recommended in a report that he appoint a provisional army high command to deal with thousands of former soldiers and young, armed volunteers who want the army restored, said George Michel, a well-known doctor and historian who is on the panel.
The report was submitted in late December but has not been made public.
"If there is a high command, all those who claim they are part of the military will have to comply with orders from their superiors," said Michel, who estimated the number of former soldiers and recruits at 15,000 and growing.
"Otherwise, even from their own point of view, they would not be able to continue to claim that they are members of the army."
More than two dozen of those former soldiers and new recruits, many armed and some in combat positions, accompanied Guy Philippe, who led the rebellion that toppled Aristide in 2004 and forced him into exile, as he gave a live interview on Radio Caraibes, Haiti's most popular station.
Aristide returned to Haiti a year ago.
"The warning I could send is that before long those groups will reach 30,000 men and any general that could emerge as their leader could take over power," Philippe told Reuters after the interview.
He urged Martelly to accept the commission's recommendations and appoint an interim high commander to take charge of them.
"They have weapons, they are trained and if they become a loose army, no one will be able to control them," Philippe said.
Martelly supports the idea of reconstituting the army but has called on the ex-soldiers to put down their weapons and vacate the camps until the government makes a decision.
Comments

(Jamaica Gleaner) Jamaica has made a formal offer to purchase Venezuela's 49 per cent stake in the Petrojam oil refinery.
(Trinidad Express) The body of a man, with his severed head nearby, was discovered yesterday in Sangre Grande.
(Trinidad Express) A gym instructor wept after being found not guilty of the rape of one of his clients during a massage.

(Jamaica Observer) JUZZLE Sayles worked hard in school and made her mother proud, but despite having 16 Caribbean Examination Council passes she has been unable to secure a job, and her parents are unable to find money for her to pursue further studies.

(Trinidad Guardian) A domestic dispute yesterday turned deadly for a 27-year-old woman, after she was stabbed in the neck by her lover in broad daylight at the Croisee in San Juan.