PORT-AU-PRINCE, (Reuters) – A Haitian government panel has urged the president to appoint an interim commander to take charge of former soldiers, a panel member said on Saturday, as the leader of a successful 2004 uprising warned that ex-members of the military could seize power.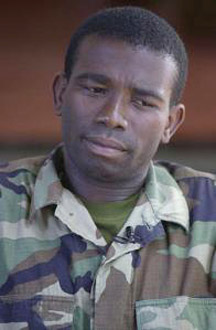 Several thousand former members of the military that was disbanded in 1995 by then-President Jean-Bertrand Aristide after a series of coups, have occupied government buildings and former army camps, defying injunctions from the government to leave.
They are often seen armed and in military uniforms in the streets and sometimes even directing traffic, fueling concerns of instability in a nation still struggling to recover from a catastrophic 2010 earthquake.
A panel appointed by President Michel Martelly to study reviving the military recommended in a report that he appoint a provisional army high command to deal with thousands of former soldiers and young, armed volunteers who want the army restored, said George Michel, a well-known doctor and historian who is on the panel.
The report was submitted in late December but has not been made public.
"If there is a high command, all those who claim they are part of the military will have to comply with orders from their superiors," said Michel, who estimated the number of former soldiers and recruits at 15,000 and growing.
"Otherwise, even from their own point of view, they would not be able to continue to claim that they are members of the army."
More than two dozen of those former soldiers and new recruits, many armed and some in combat positions, accompanied Guy Philippe, who led the rebellion that toppled Aristide in 2004 and forced him into exile, as he gave a live interview on Radio Caraibes, Haiti's most popular station.
Aristide returned to Haiti a year ago.
"The warning I could send is that before long those groups will reach 30,000 men and any general that could emerge as their leader could take over power," Philippe told Reuters after the interview.
He urged Martelly to accept the commission's recommendations and appoint an interim high commander to take charge of them.
"They have weapons, they are trained and if they become a loose army, no one will be able to control them," Philippe said.
Martelly supports the idea of reconstituting the army but has called on the ex-soldiers to put down their weapons and vacate the camps until the government makes a decision.
Comments

(Trinidad Express) The woman beaten to death with a brick in Mayaro on Monday night was eight months pregnant.
CARACAS, (Reuters) – Opposition presidential candidate Henri Falcon's campaign vowed yesterday to implement a $25 monthly giveaway to Venezuelans, as part of plans to dollarize the crisis-hit economy and alleviate suffering should he win the May 20 vote.
WASHINGTON, (Reuters) – The United States will provide $2.5 million in food and medical aid to Venezuelans fleeing their economically-crippled country to neighboring Colombia and is poised to help other countries if the situation worsens, U.S.

Trinidad's sixth President Paula-Mae Weekes was inaugurated yesterday at a ceremony at the Queens Park Savannah, Port of Spain.
BUENOS AIRES,  (Reuters) – Colombia proposed yetserday that the International Monetary Fund provide assistance to help several hundred thousand Venezuelan refugees who have fled an economic and political crisis to neighboring countries, officials at the G20 summit said.