More than one hundred less fortunate children were overjoyed when they received free kites from the Aditya Kids Trust Fund Foundation (AKTFF) at Bath Settlement last week.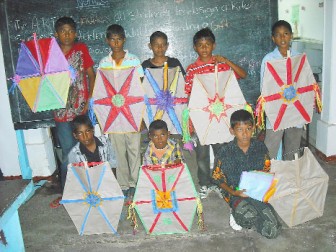 President of the AKTFF, Archie Mohan of Canada said his organization would normally distribute kites to children because they deserve to be part of the fun on Easter Day. The smaller children could not stop smiling as they clutched their kites.
Some of the children were also tasked with using their initiative to create designs for their kites.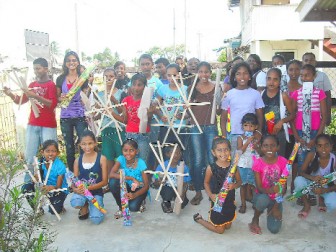 In fact, for the first time, there was even a kite-making competition involving eight boys, ages nine to 13 years old. The judging was based on "neatness, blending of the colours and how fast they finished."
Sumjumar Hemraj, Joshua Ramoo and Andrew Ramnarine were the first, second and third place winners, respectively.
Comments

LONDON, (Reuters) – The gradual decline of West Indian cricket is hardly a new phenomenon but the latest capitulation of a once-dominant test match power has brought genuine expressions of sadness throughout the sport.

Eleven residents of the juvenile correctional centre at Onderneeming on the Essequibo Coast were apprehended between yesterday and this morning.

With growing pressure on the government over the overcrowding of jails, MP Michael Carrington is confident that the parliamentary bill in his name to ease penalties on marijuana use will gain the support of the governing APNU+AFC benches of which he is a member.
The National Toshaos Council (NTC) is to begin its conference today and high on the agenda will likely be ongoing concerns about the lands commission of inquiry (CoI) which the government has convened.
A Trinidad-based medical products company has secured four contracts worth $135.4m. According to the Ministry of the Presidency (MotP), Cabinet at its meeting on August 15,2017 noted the award of 16 multi-million-dollar contracts.