DDL gets ACCA accreditation
The Association of Chartered Certified Accountants (ACCA) recently presented Demerara Distillers Limited (DDL) with its certificate as an ACCA approved employer.
In a press release, the company said Shane Kissoon, Manager ACCA Southern Caribbean on Thursday May 3 presented the certificate to Chairman of DDL Group Dr Yesu Persaud, who is himself a member of the accounting body.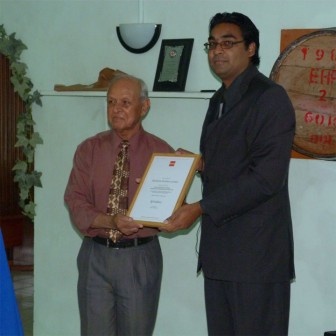 The presentation ceremony coincided with a lecture on Ethics delivered to ACCA members, affiliates and students currently employed at DDL, which received its accreditation in 2010.
Kissoon noted that with this accreditation, DDL has joined the ranks of more than 8,500 organisations worldwide. He also said that the ACCA Approved Employer programme recognises employers' high standards of staff training and development, and provides a number of benefits to an organisation.
In his remarks Persaud noted that DDL employs a large number of accountants, and reiterated the company's commitment to the development of its people. DDL and ACCA plan to cooperate to ensure continuing professional development of DDL's finance and accounting staff members.
The company will also have access to a wide range of resources and materials, including research, through this new relationship with ACCA.
Most Read This Week