The Association of Chartered Certified Accountants (ACCA) recently presented Demerara Distillers Limited (DDL) with its certificate as an ACCA approved employer.
In a press release, the company said Shane Kissoon, Manager ACCA Southern Caribbean on Thursday May 3 presented the certificate to Chairman of DDL Group Dr Yesu Persaud, who is himself a member of the accounting body.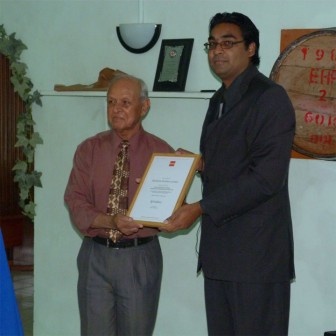 The presentation ceremony coincided with a lecture on Ethics delivered to ACCA members, affiliates and students currently employed at DDL, which received its accreditation in 2010.
Kissoon noted that with this accreditation, DDL has joined the ranks of more than 8,500 organisations worldwide. He also said that the ACCA Approved Employer programme recognises employers' high standards of staff training and development, and provides a number of benefits to an organisation.
In his remarks Persaud noted that DDL employs a large number of accountants, and reiterated the company's commitment to the development of its people. DDL and ACCA plan to cooperate to ensure continuing professional development of DDL's finance and accounting staff members.
The company will also have access to a wide range of resources and materials, including research, through this new relationship with ACCA.
Comments

(Trinidad Guardian) Education Minister Anthony Garcia says the University of Trinidad and Tobago (UTT) is of the view that the organisation is "overstaffed and to run the university efficiently it will mean they have to trim fat." But former Tertiary Education Minister Fazal Karim is warning that the decision to retrench 287 staff members, will "compromise the quality of teaching and learning and administration at the university," and may impact its accreditation with the Accreditation Council of Trinidad and Tobago (ACTT).

In preparation for Guyana's emerging oil and gas sector and the bustling business usually synonymous with the industry, the Pegasus Hotel is expected to undergo a huge expansion which includes office and residential rental spaces.

Police Commissioner Seelall Persaud is to resume his duties today after spending approximately six months on leave, Public Security Minister Khemraj Ramjattan yesterday confirmed to Stabroek News.
The Alliance For Change (AFC) yesterday launched a scathing attack on the union GAWU, accusing it of decades of sabotage of the sugar industry and not genuinely representing the interests of its workers.

The importance of foot health, especially for persons with diabetes, was emphasized by Podologist Yvonne Braithwaite yesterday, when she launched the local leg of Rovon Health Care Inc, which includes a foot spa.