A seventeen-year-old boy died at the Georgetown Hospital around 8 last night after he was involved in an accident around 8 am along the Essequibo public road yesterday.
Mazib Sabar of, Vilvoorden, Essequibo, succumbed to his injuries after the motorcycle he was riding was hit by a car. He died before going into surgery after he was transferred from the Suddie Hospital to Georgetown last evening. The car involved in the accident was allegedly in the wrong lane at the time and the driver is said to be in police custody assisting with the investigations.
According to the teen's relatives, he was last seen alive before he left his home to run errands at Anna Regina and  was returning home at the time of the accident.  His aunt told this newspaper that her nephew was riding his motorcycle on his way back from Anna Regina when he was hit by a car that was going in the opposite direction.
He was then thrown off his bike causing him to suffer  head injuries and internal complications, his aunt added.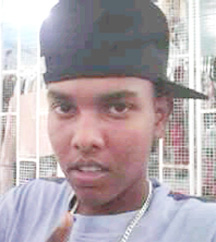 Sabar was then picked up and rushed to the hospital.  His motorcycle was also seen a short distance away mangled.
The teen's brother, Fazid, said that his brother told him he was going on the road and left earlier in the morning. He stated that while he was at home someone telephoned him and informed him that his brother was involved in an accident.
He said "after they seh dah me lef wah me been a do and went to the hospital. When me see de Converse booths then me know is me brother."
The teen was unconscious after the accident and he remained in that state up to the time of his death.
Sabar's brother also added that he thought his brother would have survived when he saw him at the Suddie Hospital. Sabar was the fifth of six boys. He leaves to mourn his mother and five siblings.
Comments

A jet plane flies by the total solar eclipse in Guernsey, Wyoming U.S.

Superstar opener Chris Gayle … returns to the West Indies side for the first time in over two years.

The Church Street hotel and casino Hotelier Clifton Bacchus today filed a $2 billion lawsuit against the state-owned Guyana Chronicle newspaper following its publication of two recent articles which he has described as "highly defamatory." Guyana National Newspapers Limited, which is the publisher of the Guyana Chronicle, and the editor of the Guyana Chronicle were listed as the defendants in the suit, which was filed by a team of lawyers headed by former Attorney-General Anil Nandlall.

LONDON, (Reuters) – The gradual decline of West Indian cricket is hardly a new phenomenon but the latest capitulation of a once-dominant test match power has brought genuine expressions of sadness throughout the sport.

Eleven residents of the juvenile correctional centre at Onderneeming on the Essequibo Coast were apprehended between yesterday and this morning.