News of the stunning US Department of Transportation (DOT) action against EZjet on Thursday was relayed by Transport Minister Robeson Benn at a hastily-summoned press conference yesterday afternoon. While the exact reasons for DOT's suspension are still unclear, there were questions about whether the 11-month-old EZjet would resume flying and the Ministry of Tourism in a statement yesterday spoke of a closure of the carrier's service.
EZjet had attracted wide negative publicity last month after it was disclosed that its founder, Sonny Ramdeo, had been sued by his former employer for embezzlement and he had also been accused of funnelling this money into the airline's operations.
Yesterday at his Kingston ministry, Benn said DOT had advised that it has suspended the operation of EZjet and as a result the Government of Guyana through the Guyana Civil Aviation Authority (GCAA) had followed suit.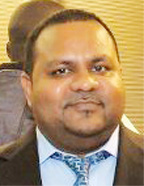 EZjet in a statement yesterday afternoon said that it is processing refunds for its stranded passengers for the unused portions of their tickets and is presently seeking new investors with a view to restarting its operations.
Benn also blamed the media and in particular Kaieteur News for what he said was negative reporting on the issues surrounding the airline and contributing to the creation of a public frenzy.
He said that the GCAA has suspended the airline's routes i.e., Georgetown to New York; Georgetown to Toronto and Georgetown to Trinidad and Tobago.  EZjet had only recently started flying to Toronto.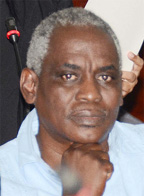 The Minister said that the genesis of the suspension resides with carrier Swift Air – whose planes EZjet wet leases – with respect to payments. "We are seeking further details on this issue and the public will be advised shortly," he added.
Benn said that Minister of Tourism, Industry and Commerce (acting) Irfaan Ali, following a meeting he had with President Donald Ramotar, has been instructed to undertake speedy  action to assist the affected passengers.
Yesterday, irate passengers turned up at EZjet's Brickdam office and were demanding refunds of their ticket costs in the wake of the cancellations.
"We are disappointed and unhappy that our efforts to bring low cost operations [to create] a more competitive environment. It has not turned out as expected," Benn lamented. He said that the government had hoped that the low cost travel would have benefited tourism and led to lowering of fares.
The calculations are ongoing to see how many passengers would be affected but he confirmed that ticket sales for the airline had ceased.
Two weeks ago, this newspaper reported that Ramdeo, the CEO of EZjet, had been sued in the United States by a former employer for allegedly embezzling monies en-trusted to him. He is facing a civil suit in the United States accusing him of devising a "sophisticated scheme of fraud and deception" to embezzle some US$5.4 million.
Following the news of his being sued, Ramdeo stepped down from his post as Chief Executive Officer but questions swirled about what impact this move would have on the fledgling carrier as he was the prime mover behind it.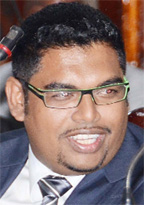 Reports out of the US state that Promise Healthcare and 11 of its hospitals brought the suit against Ramdeo, their former payroll manager who they hired eight years ago to manage the payroll for 3,500 employees in hospitals nationwide.
Named along with Ramdeo as plaintiffs in the suit were EZjet GT and PayServ Tax. Shortly afterwards, acting CEO of the airline Rosalinda Rasul gave all assurances to the public that the company had not owed any of its goods and service providers and that the court matter was a private one not expected to affect the operations of the airline.
Benn said that while the licence for the airline has been suspended, a cancellation of that licence altogether will depend on how soon the airline is able to resolve its issues in the United States.
Government in the meanwhile is seeking other possibilities for low cost air services. However, Benn was reluctant yesterday to disclose engagements that the Government would have had with other low cost carriers, including Jet Blue.
Regarding the media frenzy about the fate of the airline, Benn said, "Government was aware of the discussions in the press. It appeared that the discussions in the press created uncertainty about the company. Government was aware that companies which had been providing services [to EZjet on credit] were now demanding payment in advance. This might have precipitated the events now unfolding."
Benn said that after next week's Cabinet meeting the next course of action will be decided upon.
The Minister said that the airline had to lodge a deposit of US$200,000 and this money the government has. It is unclear whether this would be sufficient if EZjet doesn't honour its obligations. When pressed on whether the government did a due diligence to confirm the bona fides of the airline and its financiers, Benn said that the due diligence was as good as that done by the US DOT. "We did certain checks… I am not aware of some issues. It was not merely a question of due diligence. At the end of the day if you don't act speedily enough you may lose the opportunity," Benn told reporters yesterday.
Financial hardships
Meanwhile, in its statement yesterday EZjet blamed financial hardships created by its vendors and agents owing the airline and "some mismanagement" for the suspension.
"The suspension of services comes after EZjet direct carrier Swift Air took off from Port of Spain, Trinidad on November 7th leaving passengers stranded. Swift Air's CEO, Jeff Conry used a maintenance issue to deplane all the passengers after filling up with fuel paid for by EZjet and taking off to Buffalo, New York with no advance notification to EZjet of Swift's intent not to operate the flight or return the passengers," EZjet said in its statement.
"Swift Air also forced EZjet to cancel its flight scheduled for November 2 and 3 due to the fact that they abandoned passengers at the JFK airport and took another job flying for the Boston Celtics while inconveniencing EZjet's passengers," the carrier added.
"While Swift Air claims it has not been paid, EZjet believes Swift Air owes EZjet over US$800,000 relating to various charges including using substitute aircraft when theirs was damaged, ground services, hotel stays for passengers, food and other amenities during delays cause by them. While EZjet has invoiced Swift Air for reimbursement of these charges, Swift Air has not paid any of EZjet's invoices," EZjet said in its statement.
According to the airline, Swift Air replaced Dynamic Airways after Dynamic suspended its operations owing EZjet over US$1.5 million dollars "which includes an US$800,000 cash security deposit. EZjet is in the process of seeking legal action against Dynamic Airways for recovery of the sums owing."
"These outstanding balances coupled with the poor collection of ticket sales from the travel agencies have left EZjet in a financial strain. Our CEO states EZjet will of course do the right thing and refund our passengers monies paid [for the] unused portion of their tickets. We apologize to our customers. We ask the passengers to be patient with our staff and bear with us as we process the refunds. EZjet is in the process of seeking new investors with the hopes of restarting its Guyana services," the airline said.
Consternation
For its part, the Ministry of Tourism, Industry and Commerce (MINTIC) said that it views "with outmost regret and consternation" the evident repercussions which will result following the closure of services of EZjet Airlines.
"Further the Ministry is painfully aware of the negative impact this development would have on passengers already booked on this service as well as progress within the Guyana tourism sector. The Ministry has officially requested a status report on the closure of the Airline operation and also details regarding measures that would be put in place immediately to refund stranded passengers and those already booked," it said in a statement.
The Ministry said that it has contacted the Chairman of Caribbean Airlines Limited (CAL) Rabindra Moonan and has received positive feedback. It said a high level delegation from CAL will visit today to hold discussions with President Ramotar, Minister Ali, Minister Benn and other officials.
"This meeting will focus on finding solutions that would result in stability in airfares as well as availability of additional capacity to fill the void that would be created by the exit of EZjet," the ministry added.
The ministry estimated that between 25,000 and 30,000 passengers would have made reservations to travel with EZjet between November and December 2012.
"MINTIC wishes to assure all prospective passengers and stakeholders within the tourism sector that it is cognizant of the importance of having available air travel capacity during the peak Christmas period. The Ministry is also conscious of the detrimental effect that a lack of adequate capacity can have on the Tourism sector as a whole. As such, MINTIC will continue to explore every available opportunity to ensure reliable and cost effective means of international travel is available to and from Guyana," said the ministry.
The Ministry also said that it will collaborate with the Ministry of Public Works "to ensure that stern action is taken against EZjet in the protecting the interest of the consumer."
Regarding the plight of another carrier, the insolvent REDjet, Benn said that the government should begin payment of refunds next week. He said that the Ministry of Works will be putting out an advisory to inform the public when it would be ready to address refunds for REDjet.
Comments

Eighteen prisoners at the Lusignan penitentiary were being treated for injuries last night following a reported attempt to kill a fellow inmate during which warders fired shots.

A 12-year-old girl is now dead, while her brother narrowly escaped a similar fate yesterday after their aunt's La Bonne Intention (LBI), East Coast Demerara house, which they were under, collapsed on them.

Guyana has officially applied for membership in the European Union's Extractive Industries Transparency Initiative (EITI) which will help in tracking revenues from oil and other natural resources.

State Minister Joseph Harmon yesterday reiterated that President David Granger's directive to the Police Service Commission to halt its consideration of promotions was intended to prevent damage to the image of the Guyana Police Force but he could not say under what authority the head of state acted.

While saying that a strong security presence along the country's borders is the first line of defence against transnational criminal syndicates, President David Granger yesterday called for cooperation by all actors to see the security of Region Nine as a priority.