-Mabaruma hospital had no doctor on duty
A 16-year-old schoolgirl died yesterday, some ten hours after she was brutally stabbed by a man who subsequently hung himself and upset relatives say that her life could have been saved if a plane was available to medivac her to the city.
Zaleena Shaddick also called `Zal' and `Bibi' of Kumaka, Region One, North West District took her last breath around 6 am, minutes after leaving the airstrip at Mabaruma, NWD.
The attacker identified as Ronnie Ramitt Jnr, a 19-year-old mini bus conductor was found hours after he had launched the vicious attack, hanging from a piece of rope in a Hosororo yard. The attack on the teen occurred around 8:30 pm in her yard.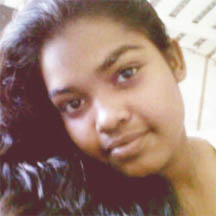 Stabroek News managed to make contact with the girl's distraught relatives, however family members of the man could not be reached as where he lives there are no telephone signals. Stabroek News understands that police visited his home and delivered the news to his father who was left in shock.
Both bodies are at the Mabaruma Hospital morgue.
Based on reports coming from the relatives, the two were acquainted for some time and Shaddick had rejected Ramitt's advances. He had reportedly threatened to kill her.
A distraught Feroze Mohamed Shaddick told Stabroek News from his Kumaka home that his daughter was downstairs when the man jumped a fence and attacked her. He said that at the time he was on the upper flat of his house. He later heard two children screaming. When he went to the bottom flat to investigate he found the teen who was in a chair, clutching a gaping wound to her belly. Feroze said that blood was also gushing from a wound to her neck and she was stretching a hand in his direction.
The teen called her attacker's name.
Feroze said that it was neighbours who assisted them with a taxi to take the teen to the Mabaruma Hospital located about ten minutes away. The grief stricken man said that when he arrived at the hospital there was no doctor. He said that the doctor arrived about 1 -1 ½ hours later.
"We went to the doctor quarters but no one was there", he recalled, adding that the medex and several nurses worked tirelessly to save the teen. The medex at the time was off-duty but she went to the hospital to assist.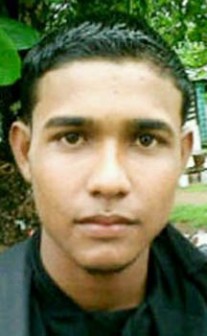 Following the stabbing, the man fled and according to the teen's uncle, Gary James, he premeditated the murder. He explained that based on the information he received, Ramitt visited the girl's home to deliver a sim card.  He explained that Ramitt who lives some thirteen miles away hired a vehicle to transport him to Kumaka. Following the stabbing, he said, Ramitt boarded the vehicle and was heading for home.
According to James, his brother-in-law saw when the vehicle was pulling off and attempted to follow but had to give up after his vehicle "cut out". James said that Ramitt disembarked the vehicle about half way to his home where he hung himself in a yard.
Both Feroze and his wife Gail Wong who migrated to Kumaka from their Leonora home eight years ago said that Ramitt liked their daughter but she rejected his advances. Feroze recalled that about a year ago he spoke to the young man on his daughter's cellular phone. He said that he recalled telling him that his daughter was still under age and he would prefer if he waited until she had finished school before attempting to pursue a relationship with her. She was a student of the Mabaruma Secondary School and was scheduled to write CSEC exams next year.
Gail said that when Shaddick returned home at midday for lunch on Wednesday, she told her that a boy was drinking at the snackette. In light of her daughter's death, she now believes that she was referring to Ramitt. The woman said that previously the young man had threatened to shoot Shaddick "so she was scared".
`We need an emergency plane'
While speaking to Stabroek News, Feroze, James and other relatives stressed that this stabbing is a clear sign that the North West is in need of an emergency plane.
Feroze explained that he wanted his daughter to be transferred but the hospital staff repeatedly told him that the teen had to be stabilized first. He said that after this was done calls were made to Georgetown to make arrangements for her to be air-dashed to the city but the numbers were ringing out.
He said that he got in touch with the Regional Chairman who also tried to locate a plane. He said that attempts were also made to contact the president.
He explained that the owner of a Wings for Humanity aircraft which was parked at Mabaruma was willing to make the flight but the woman said that she could not because she was barred from flying after 6 pm. He said that even the doctor who is also a licensed pilot was willing to make the journey but he too was afraid of the consequences.
"We need emergency doctor. We need emergency transpee (transport)… If we had that she would have been alive today. Is bleed to death she bleed to death" he stressed. He recalled that it was painful to watch his daughter. Stabroek News was told that the medical personnel took turns squeezing an oxygen mask.  He said that up until the time she was transported to the airstrip, Shaddick was conscious. He said that because of the wound to her neck, she could not speak but would write little notes for them to read. He said that in one of the notes the teen wrote that being the only daughter, she has "let my hand down".
The parents also said that they would have preferred if Ramitt had remained alive to take responsibility for his actions.
Comments

Anil Nandlall Former Attorney General Anil Nandlall today rejected an explanation by Minister of State, Joseph Harmon over the government's directive to the Police Service Commission to halt promotions.

The improvised weapons (Prisons photo) Prison Staff this morning with the support of the members of the other services, reported for duty at the new holding area lusignan Prison.

Nicolas Maduro CARACAS/LIMA, (Reuters) – A group of 12 regional nations plus the United States rejected Venezuela's new government-allied legislative superbody, saying they would continue to regard the opposition-controlled congress as the country's only legitimate law maker.

Eighteen prisoners at the Lusignan penitentiary were being treated for injuries last night following a reported attempt to kill a fellow inmate during which warders fired shots.

A 12-year-old girl is now dead, while her brother narrowly escaped a similar fate yesterday after their aunt's La Bonne Intention (LBI), East Coast Demerara house, which they were under, collapsed on them.