Prominent labour attorney and trade unionist Randolph F Kirton passed yesterday morning at the Georgetown Public Hospital after being admitted there on Saturday last.
The D' Urban Backlands, Georgetown resident was 77 years old.
His grandson Robin Montayne told Stabroek News that the family was inconsolable and still trying to come to grips with his death. He said the family wanted time to grieve and as such could not comment on his passing.
However, this newspaper was told that Kirton was rushed to the GPH early Saturday morning after complaining of feeling unwell.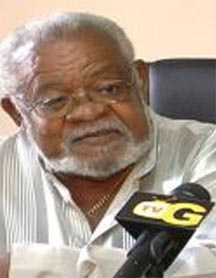 General Secretary of the Guyana Trades Union Congress (GTUC) Lincoln Lewis expressed condolences while stating that the trade union movement in Guyana had lost more than a dedicated attorney to its cause. "We will miss Randy because he was the type of person we could turn to for advice on issues that bothered us in labour. He was more than just a labour lawyer he was a strong man, a good man, a brave man; a man who stood with you in a cause for advancing the rights of workers and society," Lewis said.
Attorney General Anil Nandlall reflected on the years when Kirton was a member of the PPP/C, stating that although he had changed political sides he was always cordial though passionate about his cause.
He said that having only seen Kirton at Clarence Hughes' funeral recently, in apparent "good health" his death came as a shock. "It is a loss to the profession…," Nandlall said. "Most of his life he spent in the trade union arena. He was a pleasant person and though we were on different political divides we always maintained very cordial relations.
"At one time he was connected to the PPP and was even the recipient of a party scholarship to study in Germany…he parted political company with the PPP and was very critical of the administration. That notwithstanding we maintained a very amicable relationship and only recently he spoke to me about a pending matter filed against the state," he added.
Leader of A Partnership for National Unity (APNU) David Granger told Stabroek News that while his party would miss Kirton, his death was a devastating blow to the trade union movement. "During his career he was a very strong advocate for the rights of trade unions…  We would certainly miss him" Granger said.
At the time of his death Kirton still practiced law and had his office in the First Federation Building on Croal Street.
Comments

Jerry Lewis   LOS ANGELES,  (Reuters) – Jerry Lewis, the high prince of low-brow comedy on stage and in movies as well as a fund-raising powerhouse with his annual Labor Day telethon, died today of "natural causes" at the age of 91, his family said.

Beharry Automotive Limited (BAL) , the authorised distributor for Toyota parts and lubricants, says that an abundance  of imitation Toyota parts and lubricants have entered the market with the Toyota logo and trademark.

Grace Mugabe   HARARE,  (Reuters) – Zimbabwe's first lady Grace Mugabe returned from South Africa early today, state media reported, after a 20-year-old model accused her of assault in an upmarket Johannesburg hotel room.

Michael Bhopaul, 16, doesn't know if he is this year's best performer at    the Caribbean Secondary Examination Certificate (CSEC) Examinations, but with preliminary results showing that he has obtained passes in 25 subjects, he will be hard to top.

Inmates at the Lusignan Prison turned over 33 improvised weapons yesterday morning to prison authorities, who say that they also apologised to the prison staff for the unrest at the facility on Friday night.