As everyone was busy preparing for Christmas, Roleen Alexander of Rosignol, West Bank Berbice who is caring for her 10-year-old grandson, Shemmar Simon is worried about where the next meal would
come from.
Life had always been a struggle for Roleen, 48, and when her son-in-law, Anderson Nicholson brutally murdered her daughter, Trevlyn Kingston-Nicholson on October 14, 2008, her situation became worse.
The man also dealt Roleen serious injuries. Her fingers on her left hand were punctured with a fork and she suffered chops to her forehead with a chopper.
She was treated first at the Fort Wellington Hospital and then transferred to the Georgetown Public Hospital.
Her fingers have been left permanently disabled and she is unable to do much. She also still suffers pain in her forehead at times.
She has also been tasked with taking care of Trevlyn's son, Shemmar Simon, 10, and said sadly, "If he didn't kill she, she woulda be here to look after she son."
At the time of her injuries she earned a living by "cleaning drains and washing [doing laundry] for people." But now she can only use her right hand to perform chores.
She currently works as a security guard at the nearby Rosignol Secondary School but her income is barely enough.
Many days there is hardly any money left for food after she pays the bills and takes care of other expenses. But "sometimes when I go out on the road somebody I know would give me a $100 or $200 or something to cook."
Relatives would send her a little money "whenever dem get but I can't depend on dem." She also gets a "little public assistance [for the child] but the book sharing till January."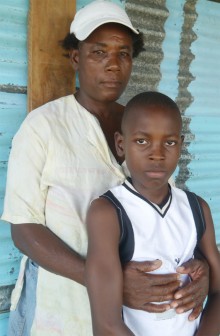 His grandfather [Roleen's husband] "used to help me and give him money to buy something at school but he grandfather died… And when I don't have to give him he would he would say 'grandmother ah going without'".
According to her, "I deprive myself of a lot of things just to take care of him… I have to find lesson fee and all kinda things and it hard."
She said too that the other day she took him into a store "just for a walk and he tell me 'grandmother, buy something for me na' and I tell he I din have money… and he understand."
Pausing during the interview as tears streamed down her face, Roleen said sadly that she did not plan to do anything special for Christmas because "I don't have any money."
As for presents, the child would not be getting any, or at least not from her. He was able to attend the party at the school without paying because "I explained my situation to the teacher."
She gave him "his same old clothes to wear to the party. Right now his pants and everything getting short and I cannot afford to buy more."
The house she lives in belongs to her in-laws and she would have to move sometime.
They will assist her to build a smaller house at the back of the yard though, but she also has to try and raise some money on her own.
Right now she also she has to find money to buy a new mattress for a bed that someone gave to her.
Roleen was still disturbed at the fact that while she was hospitalized after the chopping, her relatives went into her daughter's house and removed her belongings, including clothing, wardrobe, a gas stove, bed and mattress.
They also took away Shemmar's clothing, school bag with books and his toys. They have never returned any of the items.
She was sad too that her other children "don't give me anything. Strangers does help me more than my own."
Although four years have passed, she is finding it difficult to put the memories of the horrible ordeal behind. She had watched in horror as her daughter's life was cold-bloodedly snuffed out right before her eyes.
She had prayed that Nicholson would face the full brunt of the law and was glad that he had admitted to the crime and had been remorseful for his actions. But she was not at all satisfied with the outcome of the just concluded trial.
At the Berbice High Court, Justice Roxane George sentenced him to 13 years in jail. He had changed his plea to guilty to the lesser count of manslaughter in November and it was accepted by Senior State Prosecutor Prithima Kissoon.
The judge informed him that she would "start off with 23 years" but she knocked off 10 years; taking into consideration the four years that he had already spent, a favourable probation report and his guilty plea.
Given a chance to speak before the sentence was passed, Nicholson said he regretted what happened and knew he had to face the consequences of his actions.
He had described the event as a "contrary triangle" and said he and his wife shared a happy marriage but felt provocation caused the devil to come between them.
Roleen is also aware of the fact that Nicholson had changed his life and had become a practising Christian while on remand.
She told this newspaper that she would "leave everything to God. I go to church too and the Bible said to forgive…" She has forgiven him because "the Father does forgive us but he gat to answer fuh wah he do."
She recounted that her daughter met her demise following an argument with Nicholson over a text message that was sent to his phone.
Before that, Roleen who had returned to her daughter's house at D'Edward Village after taking Shemmar to the health centre, said her son-in-law left to go to Cotton Tree school with a fork to assist his brother with some work.
Trevlyn had gone to the seaside to check on their cows and when her husband returned home and learnt that she was there he went in search of her. A few minutes later she got a message that he was beating her and she went and brought her home.
Nicholson followed them and attempted to plunge the fork into Trevlyn but Roleen jumped between them and the fork connected with three fingers on her left hand.
The enraged man then reached for a chopper and dealt Roleen the wounds to her forehead.
As this was happening, her daughter took the opportunity to run out of the yard and through a short alleyway. Her husband pursued her after grabbing a cutlass.
By the time she crossed the church bridge and reached on the PNC Dam she could not run anymore and fell. She was unable to get up as he rained chops on her.
With blood trickling from her wounds, especially one on her right temple, Roleen, too, screamed for mercy.
The distressed mother said she watched helplessly from a resident's yard and listened to her daughter pleading for life with every chop until she took her last breath.
The attacker then calmly walked away with the murder weapon before starting to run as he was halfway towards the sea-dam. The following day he surrendered in the company of his lawyer.
Comments

Jerry Lewis   LOS ANGELES,  (Reuters) – Jerry Lewis, the high prince of low-brow comedy on stage and in movies as well as a fund-raising powerhouse with his annual Labor Day telethon, died today of "natural causes" at the age of 91, his family said.

Beharry Automotive Limited (BAL) , the authorised distributor for Toyota parts and lubricants, says that an abundance  of imitation Toyota parts and lubricants have entered the market with the Toyota logo and trademark.

Grace Mugabe   HARARE,  (Reuters) – Zimbabwe's first lady Grace Mugabe returned from South Africa early today, state media reported, after a 20-year-old model accused her of assault in an upmarket Johannesburg hotel room.

Michael Bhopaul, 16, doesn't know if he is this year's best performer at    the Caribbean Secondary Examination Certificate (CSEC) Examinations, but with preliminary results showing that he has obtained passes in 25 subjects, he will be hard to top.

Inmates at the Lusignan Prison turned over 33 improvised weapons yesterday morning to prison authorities, who say that they also apologised to the prison staff for the unrest at the facility on Friday night.