SAN ANTONIO, Texas (Reuters) – Rapper Snoop Dogg was arrested over the weekend after border control agents found what they said was a small amount of marijuana on his tour bus.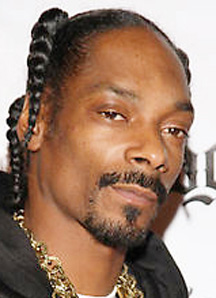 The singer and record producer, 40, was stopped at the same Sierra Blanca, Texas, checkpoint on Saturday where country singer Willie Nelson was arrested for marijuana possession in 2010, customs officials said.
Bill Brooks, a spokesman for US Customs and Border Protection, said agents conducted a routine inspection of the rapper's tour bus on at the US- Mexico border checkpoint east of El Paso and thought they smelled marijuana.
"When our officers did a further inspection, they discovered a small amount of marijuana and turned him over to the Hudspeth County sheriff," Brooks said.
A spokesman for the sheriff's office said Snoop Dogg "freely admitted" the pot belonged to him. He said a dog found a prescription bottle containing rolled marijuana joints and two other containers with marijuana.
The rapper was cited for possession of drug paraphernalia, released and given a January 20 court date, authorities said.
Snoop Dogg, whose real name is Calvin Broadus, has been arrested and convicted numerous times in the last 10 years for possession of drugs ranging from marijuana to cocaine, and weapons offences.
Comments

WASHINGTON,  (Reuters) – A U.S. government shutdown will enter its third day today as Senate negotiators failed to reach a deal late on Sunday on Democrats' demand for legislation protecting "Dreamers," young people brought to the country illegally as children.
AZAZ, Syria,  (Reuters) – Turkey's army and rebel allies battled U.S.-backed Kurdish militia in Syria's Afrin province on Sunday, stepping up a two-day-old campaign against YPG fighters that has opened a new front in Syria's civil war.
KABUL,  (Reuters) – Gunmen in army uniforms who stormed Kabul's Intercontinental Hotel late on Saturday and battled Afghan Special Forces through the night killed more than 30 people and wounded many more, although the final toll of dead and wounded may still be higher.
WASHINGTON,  (Reuters) – U.S. lawmakers are urging AT&T Inc, the No. 2 wireless carrier, to cut all commercial ties to Chinese phone maker Huawei Technologies Co Ltd and oppose plans by telecom operator China Mobile Ltd to enter the U.S.
BEIJING, (Reuters) – China's top newspaper, decrying Washington as a trouble-maker, said yesterday U.S.