MOSCOW,  (Reuters) – Vladimir Putin claimed victory in Russia's presidential election yesterday and, tears rolling down his cheeks, said it was a historical turning point that had prevented the country falling into the hands of enemies trying to usurp power.
The prime minister's opponents said there had been widespread fraud in yesterday's election. They refused to recognise the results and vowed to press on with the biggest protests since he rose to power 12 years ago.
But the former KGB spy was triumphant, and unusually emotional, after exit polls and partial results suggested he would win about 60 percent of the vote and return to the Kremlin after four years as premier.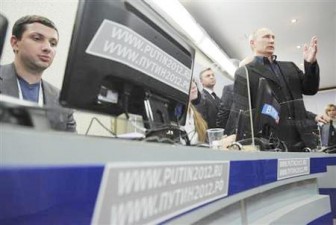 "I promised you we would win. We have won. Glory to Russia," Putin, dressed in an anorak and flanked by outgoing President Dmitry Medvedev, told tens of thousands of flag-waving supporters late in the evening at a victory rally metres from the red walls of the Kremlin.
Denouncing attempts to "destroy Russia's statehood and usurp power", he declared: "The Russian people have shown today that such scenarios will not succeed in our land … They shall not pass!"
It was a defiant and angry speech in which Putin, 59, sounded a clear warning to the mainly middle-class protesters in Moscow and other big cities who have staged huge rallies since a disputed parliamentary poll on Dec. 4.
Putin's nearest rival, Communist Party leader Gennady Zyuganov, won only about 18 percent of votes, according to exit polls by a state pollster and a polling group that has proved reliable in the past.
Nationalist Vladimir Zhirinovsky, ex-parliamentary speaker Sergei Mironov and billionaire Mikhail Prokhorov were all forecast to win less than 10 percent, although Prokhorov won plaudits for a relatively strong campaign.
Zyuganov said his party would not recognise the official results and called the election "illegitimate, dishonest and untransparent." Liberal leader Vladimir Ryzhkov also refused to recognise the result. The organisers of the anti-Putin protests, which portray him as an autocratic leader whose return to power will stymie any hope of economic and political reforms in Russia, said they would resume their protests on Monday.
"The social base of the protest is going to grow and Putin with his team did everything wrong to make this happen. He really helped us," said journalist Sergei Parkhomenko, one of the leaders of the opposition protest movement.
"He is forcing things to breaking point. He is declaring war on us. As a result the base of aversion to him is growing."
CHALLENGES AHEAD
Despite the growing opposition, mainly among well-educated and relatively well-off young professionals in big cities,  Putin's support remains high in the provinces and his victory had not been in doubt.
The main challenge for the man credited by many Russians with rebuilding the country's image and overseeing an economic boom, was to win outright in the first round.
Putin is sure to portray his return to the post he held from 2000 until 2008 as strong public backing against the protesters, whom he has portrayed as a destabilising minority and pawns of foreign governments.
But the reaction to his rallying cry at the victory rally  was muted, and hundreds of buses had brought the crowd to the capital, signalling that it was a well-organised show of force rather than a spontaneous display of support.
Around the Web