MEXICO CITY, (Reuters) – Former Mexican President Miguel de la Madrid, who struggled to overcome one of the country's worst economic crises and a devastating earthquake in the 1980s, died yesterday at the age of 77.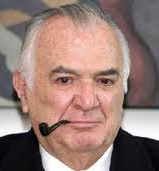 A stalwart of the Institutional Revolutionary Party (PRI), Mexico's ruling party for most of the 20th century, de la Madrid broke with PRI orthodoxy by backing market-friendly reforms but still proved unable to tame surging unemployment and triple-digit inflation during his six-year term from 1982 to 1988.
De la Madrid died of complications resulting from pulmonary emphysema, a spokesman for the PRI said.
Around the Web