SANFORD, Fla.,  (Reuters) – Neighbourhood watch volunteer George Zimmerman apologized to the family of Trayvon Martin yesterday, stunning a rapt courtroom and a national television audience at a hearing in which the judge granted Zimmerman $150,000 bail on a charge of second-degree murder in the death of the unarmed black teenager.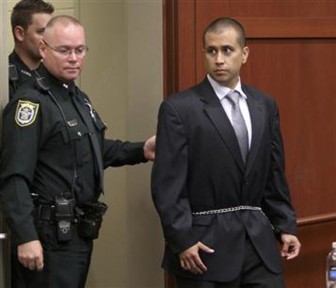 Zimmerman's surprise appearance on the witness stand added an unexpected twist to a saga that has riveted the country, provoked civil rights protests nationwide and fired a national debate over guns, self-defense laws and race in America.
"I wanted to say I am sorry for the loss of your son," Zimmerman, 28, told Martin's parents, Tracy Martin and Sybrina Fulton, briefly looking toward them in the gallery.
"I did not know how old he was. I thought he was a little bit younger than I am. And I did not know if he was armed or not," Zimmerman, dressed in a suit and tie with shackles around his waist and wrists, said in his first public remarks on a shooting that has topped the news for weeks.
The parents of Martin, 17, were outraged Zimmerman was allowed to make what they considered a self-serving apology meant only to improve his chances of making bail, their lawyer said, calling the apology too late to be genuine.
Zimmerman's release from jail could take days while his family raises cash and prosecutors and defense lawyers work out an agreement to protect his privacy and safety. Prosecutors must also consider a defense request allowing him to leave the state.
Trayvon Martin's parents, who divorced in 1999, left the court stone-faced with arms locked, declining to answer questions from reporters.
"They are devastated" that Zimmerman might soon be free on bail, attorney Benjamin Crump told reporters, adding that Tracy Martin had tears in his eyes throughout the hearing.
"And it was devastating that he got to give a self-serving apology to help him get a bond," Crump said of Zimmerman. "They (the parents) were very outraged at that."
Though dramatic, Zimmerman's testimony could be used by prosecutors later in the case to impeach his credibility should they discover contradictions with previous statements to police.
Assistant State Attorney Bernie de la Rionda was limited to the apology in his cross-examination of Zimmerman and prohibited from delving into the facts of the case. But he made a point of locking Zimmerman into his statement that he also told police he "felt sorry for the family" about the death of Trayvon.
Zimmerman also testified he never changed his story in three separate statements to police.
Around the Web