(Reuters) – Delta Air Lines Inc said it was taking new steps to ensure the safety of food it serves and the Federal Bureau of Investigation said it began a criminal probe after what appeared to be sewing needles were found in sandwiches on four flights from Amsterdam to the United States.
The sandwiches were supplied by Gate Gourmet, Delta's caterer out of Amsterdam, the airline said.
"Out of an abundance of caution, the security around meal production in Amsterdam has been increased," Delta spokeswoman Kristin Baur said on Tuesday. "We're still taking this matter extremely seriously."
Baur said the sandwiches, which are provided to business travelers free of charge, have been replaced as menu items with prepackaged pizza on flights from Amsterdam. Attention and corrective action was primarily being focused on Amsterdam, where all four flights on which the foreign objects were found originated, she said.
FBI Special Agent Stephen Emmett said his agency has started a criminal inquiry into the matter, led by its Atlanta field office. "It's too early into the investigation to provide additional details," he said on Tuesday.
Gate Gourmet, a subsidiary of Swiss-based gategroup Holding AG, said it had started its own investigation into "this disturbing incident" and added "we are treating this as a criminal act."
The Dutch food safety authority said it is investigating the incidents.
Six sandwiches on Delta flights that originated on Sunday were found to have foreign objects, Baur said. Suspected needles were discovered in food by two passengers flying to Minneapolis and one customer on an Atlanta-bound flight. A federal air marshal on another flight into Atlanta reported an affected sandwich, and inspections by Delta found foreign objects in two sandwiches on a flight headed to Seattle, she added.
Comments
(Trinidad Guardian) It is now official. Two external audits have confirmed that there was a discrepancy between reported oil production in the Exploration and Production Operations in the Catshill Field operated by A&V Oil and Gas and the actual production receipts at Pointe-a-Pierre discovered by Petrotrin's Internal Audit Department in the period January to June 2017.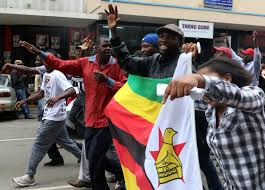 HARARE (Reuters) – The leaders of Zimbabwe's ruling ZANU-PF party will meet today to approve the dismissal of President Robert Mugabe, the only leader the southern African nation has known since independence 37 years ago, two party sources have said.

DUBLIN (Reuters) – Sinn Fein's Gerry Adams, a pivotal figure in the political life of Ireland for almost 50 years, said on Saturday he will step down as party leader and complete a generational shift in the former political wing of the Irish Republican Army (IRA).
WASHINGTON (Reuters) – The top US nuclear commander said on Saturday that he would resist President Donald Trump if he ordered an "illegal" launch of nuclear weapons.
BONN, Germany (Thomson Reuters Fou-ndation) – UN climate negotiations in Bonn, aimed at laying the groundwork for faster action to curb climate change and deal with its impacts, ended in the early hours of Saturday morning with solid progress on key issues, including preparations for ramping up carbon cuts.