MIAMI, (Reuters) – Tropical Storm Ernesto kept on a westerly course in the Caribbean Sea yesterday and was expected to strengthen slowly over the coming 48 hours while heading towards Mexico's Yucatan, U.S. forecasters said.
Wet and windy conditions were felt in Jamaica yesterday which caught the outer rain bands of Ernesto, according to Jamaica's emergency management office.
Ernesto's winds and rain failed to dampen the spirits of many Jamaicans who gathered in large street parties in the capital Kingston to watch their star sprinter Usain Bolt race to victory in the 100 meters track final at the Olympics Games.
The U.S. National Hurricane Center in Florida said tropical storm conditions were possible along the coast of Honduras by late today. A tropical storm watch advisory was also issued for Grand Cayman.
Ernesto was following a predicted track that should keep it at sea until a forecast landfall, possibly at hurricane strength, over Mexico's Yucatan peninsula on Wednesday.
The storm was 235 miles (375 km) east of the coast of Honduras at around 11 p.m. EDT (0300 GMT) on Sunday, moving west at about 15 mph (24 kph) with maximum sustained winds around 50 mph (85 kph).
Heavy rains were experienced throughout Sunday in Hispaniola and Puerto Rico. Three to 6 inches (7.6 to 15.2 cm) were predicted in Jamaica and authorities warned of flooding in low-lying areas along the south coast. Showers and thunderstorms, sometimes severe, were possible on the islands of Aruba, Curacao and Bonaire off Venezuela's northern coast.
"Some strengthening is forecast as Ernesto moves over the northwestern Caribbean Sea on Monday and Tuesday," the U.S. forecasters in Miami said. Ernesto will be deemed a hurricane if its winds reach 74 mph (119 kph).
Forecasters expect Ernesto to move into the southern part of the Gulf of Mexico by Thursday but they said it was too early to know whether it could disrupt oil and gas operations in the gulf.
The National Hurricane Center forecasters said another tropical storm, called Florence, formed on Saturday in the eastern Atlantic and was moving west in open waters. As of early Sunday, forecasters said Florence was about 925 miles (1,485 km) west of the Cape Verde Islands.
With maximum sustained winds of 40 mph (65 kph), Florence was the sixth named storm of the Atlantic-Caribbean hurricane season, but it faded on Sunday as it moved west-northwest at 13 mph (20 kph).
"Additional weakening is expected … and Florence is forecast to become a tropical depression on Monday," the Hurricane Center reported.
August and September are usually the most active months of the Atlantic-Caribbean hurricane season, which runs from June 1 to Nov. 30.
Comments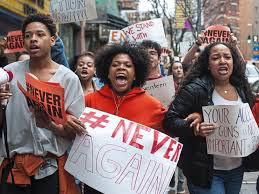 (Reuters) – In the week since 17 of David Hogg's classmates and teachers were gunned down in Florida, he and his fellow high schoolers have launched a movement that reshaped the gun control debate almost overnight and may influence the US midterm elections.
BEIRUT/UNITED NATIONS (Reuters) – The UN Security Council on Saturday demanded a 30-day truce across Syria as rescuers in the country's eastern Ghouta region said bombing had not let up long enough for them to count bodies during one of the bloodiest air assaults of the seven-year war.
WASHINGTON (Reuters) – The Democratic minority on the US House of Representatives Intelligence Committee on Saturday released a response to Republican charges that the FBI and Justice Department have abused the law in their investigation of possible ties between Russia and Donald Trump's 2016 presidential campaign.
BEIJING (Reuters) – China reacted with anger on Saturday to new US sanctions aimed at increasing pressure on nuclear-equipped North Korea, saying the unilateral targeting of Chinese firms and people risked harming cooperation on the problem.
NEW YORK (Reuters) – Delta Air Lines and United Airlines on Saturday became the latest major corporations to sever marketing ties with the National Rifle Association as the fallout from last week's massacre at a Florida high school took its toll on the gun advocacy group.