CARACAS,  (Reuters) – Vene-zuela's Hugo Chavez suffered unexpected bleeding caused by a six-hour cancer operation in Cuba, the government said, although the ailing president's condition began to improve yesterday.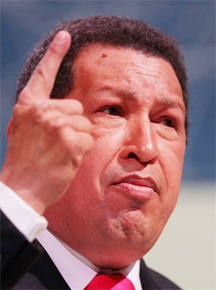 The 58-year-old's health has deteriorated dramatically since he won re-election two months ago, casting doubt on the future of his "21st century socialism" project, which won him huge support among the poor but infuriated adversaries who denounce him as a fledgling dictator.
Officials said Chavez's medical team in Havana had to use "corrective measures" to stop the bleeding which resulted from Tuesday's surgery, his fourth cancer operation in 18 months. But they said his condition had improved since then.
"In the last few hours, his process of recovery has evolved from stable to favorable," Vice President Nicolas Maduro told a rally of Socialist Party supporters, who cheered as he spoke.
"That allows us to continue saying that there is a growing recovery in Comandante Hugo Chavez's situation."
The president claimed he was cured earlier this year, and was able to campaign for re-election in October, but now looks to be fighting for his life again. Officials have stressed that his post-operation process will be long and complex.
The ashen faces of cabinet ministers and somber tone of their terse official statements since Tuesday's surgery appeared to suggest top government officials are preparing for the worst.
The president has refused to divulge details of the cancer that was diagnosed in June of last year.
He won re-election by a big margin in October and is due to start a new six-year term on Jan. 10. According to the constitution, if he is unable to do so or steps down after starting a new term, an election must be held within 30 days.
On Saturday, Chavez anointed Maduro as his heir apparent in case he had to step down – the first time since he took office in 1999 that he has named a successor.
The 50-year-old Maduro, a former union organizer and loyal Chavez disciple who is seen as a pragmatic moderate, would be the ruling party's candidate.
'FATHERLAND IS SAFE'
The president of Uruguay, Jose Mujica, said he planned to visit Chavez in Cuba, and Venezuelans held vigils and gathered in plazas to pray for their president's swift return.
State TV launched a spot that opens with Chavez's voice thundering "I am no longer myself, I am the people," followed by Venezuelans of all ages telling the camera: "I am Chavez."
Another shows short clips of Chavez singing folk songs with supporters and reciting poetry. One rally for a "Chavista" candidate in Sunday's regional elections kicked off with a recording of the president singing the national anthem.
The Information Ministry published a document with the words "Loyalty to Chavez – The fatherland is safe" over a picture of Chavez and Maduro sitting below a painting of liberation hero Simon Bolivar. Chavez is shown holding an ornate golden replica of Bolivar's sword.
Senior government officials have begun cautiously preparing people for the reality that Chavez may not survive.
"At the same time as we pray, we should be ready to turn our sadness and pain into a force that can mobilize the people," Aristobulo Isturiz, a top ally of the president, told a rally of red-clad supporters.
Even if he dies, Chavez is likely to cast a long shadow over Venezuela's political landscape for years – not unlike Argentine leader Juan Peron, whose 1950s populism is still the ideological foundation of the country's dominant political party.
Elections shortly after the Venezuelan leader's death could create an awkward scenario for the opposition. Campaigning on day-to-day concerns such as crime and inflation would be difficult in such an emotionally charged atmosphere.
Comments

WASHINGTON/HAGERSTOWN, Md., (Reuters) – President Donald Trump yesterday fired his chief strategist Steve Bannon in the latest White House shake-up, removing a far-right architect of his 2016 election victory and a driving force behind his nationalist and anti-globalization agenda.
NEW DELHI,  (Reuters) – The Indian government has threatened Philip Morris International Inc with "punitive action" over the tobacco giant's alleged violation of the country's anti-smoking laws, according to a letter sent to the company by the federal health ministry.
BARCELONA, (Reuters) – The driver of the van that ploughed into crowds in Barcelona, killing 13 people, may still be alive and at large, Spanish police said yesterday, denying earlier media reports that he had been shot dead in a Catalan seaside resort.
JOHANNESBURG,  (Reuters) – South Africa has granted diplomatic immunity to Zimbabwe's first lady, Grace Mugabe, allowing her to return to Harare and avoid prosecution for the alleged assault of a 20-year-old model, a security source said yesterday.

BARCELONA,  (Reuters) – Spain mounted a sweeping anti-terror operation yesterday after a suspected Islamist militant drove a van into crowds in Barcelona, killing 13 people before fleeing, in what police suspect was one of multiple planned attacks.