OSLO, Norway, CMC – Organisers announced on Wednesday that sprint megastar Usain Bolt will contest the 100 metres at the Bislett Games on June 7 in the city.
The meet is one one of 14 IAAF Diamond League events for the year and the first in which Bolt has confirmed his participation.
"I am looking forward to come back to Oslo and the Bislett Games this summer and try the 100 metres," said Bolt, the 2011 Athlete of the Year.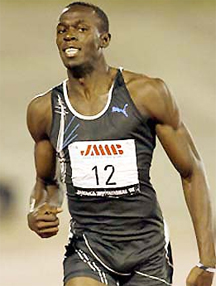 "I have so many good memories from this great city with its fantastic stadium last year. I was really happy with my performance last year when I ran 19.87 in the 200 metres in front of a sold-out stadium with its enthusiastic crowd. That race ended up being my second fastest 200m race of my season."
Bolt said: "My preparations have been good this fall. I am injury free, working hard and everything is going according to plan. I hope to come to Bislett prepared and ready to run a great race.
"This year is really important for me as it is an Olympic year and I am aiming to defend my three gold medals from Beijing. My 100 race at the Bislett Stadium will be an important stepping stone towards that goal."
The Diamond League series begins on May 11 in Doha, Qatar.
Around the Web