By Iva Wharton
If the main bout of Saturday's World Boxing Council's (WBC) Champions Cup between Guyana's Wayne 'Big Truck' Braithwaite and Shawn Cox of Barbados is anything like the verbal exchanged witnessed at a press conference hosted by the Guyana Boxing Board of Control (GBBC) yesterday, then patrons will surely get their monies worth.
Cox: I feel great, this is my time, his time has passed. Come Saturday, you will see who is Shawn Cox and why the call me `Sniper'.
Braithwaite:You had best shoot and don't miss.
Cox:I don't miss, ask Mr. Abdool I don't miss.
Braithwaite:Because if you shoot and miss is trouble.   I am not Bess nor  Gilkes you know this is different. Don't write a check that you can't cash.
If the verabal exchanges are anything to go by Saturday's main bout will be a scorcher.
Cox's manager Sam Layne says his boxer is one of the most devastating fighters around.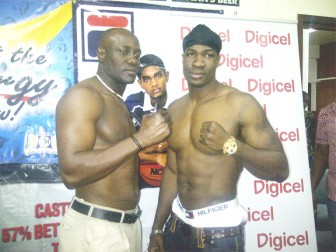 "We have done absolutely nothing different to prepare. We have seen a lot of videos of Mr. Braithwaite and we know what to expect from him basically. Shawn, as you know, is one of the most devastating fighters in the World basically and this will be shown on Saturday. It was shown in Guyana over the last couple of fights. He keeps improving all the time in small things and small things can make a big difference," the experienced Layne said.
But Layne and his camp are a bit wary of the experienced Braithwaite.
"We know that we have a very talented boxer, very experienced; has faced a lot of top opposition; former World champion and we have to give him that respect.
"So, obviously, we are not going to come in 99 percent prepared, we coming 100 percent prepared," Layne added.
Layne boasted that come Saturday night patrons will see  his charge at his absolute best.
He said that his fighter has a lot of experience at the highest level as he was the former Commonwealth champion, Panam Games champion and nine times Caribbean champion.
"He has won every big competition except the Olympic medal. In his first fight there after qualifying he met up with the World champion and lost by three points.
"So we got a guy who is actually World class. He is mean, he is hungry and he see nothing else but winning this fight," Laune declared.
He added that Cox was prepared to go 12 rounds as his body was conditioned for it.
Around the Web