By Iva Wharton
Motor cycle ace Stephen Vieira, better known as the local `Valentino Rossi' is racing to get fit in time for his participation at Sunday's upcoming meet at the South Dakota Circuit.
Vieira was involved in an accident which saw him injuring his hip and his knees but he is undergoing rehabilitation work and expects to be fit for Sunday's meet.
In an interview recently at the Guyana Motor Racing and Sports Club where hewas preparing to head to the gym, the local daredevil assured Stabroek Sport that he will be ready come Sunday.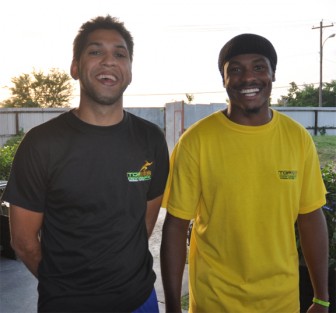 His trainer  Kezqweyah Yisrael, whom Vieira credits for his speedy recovery and  for bringing him back to the level of fitness which will enable him to hold onto his champion rider title gave the assurance that the bike champ will be ready. "We had to focus on the knees because he had a lot of pain in the knees from the accident, "he told Stabroek Sport.
Yisreal disclosed that he was working on strengthening the upper body because Vieira had injured his hip. He also planned to try and have the rider improve his reflexes.
"As a rider you need to have quick reflexes so we are doing excises for that as well," says Yisrael, who runs the Top End Performance Training Systems and has worked with a lot of national athletes.
Asked if Vieira was fit enough to head back to the circuit and compete, Yisrael said: "I believe he will be in the best possible shape, better than before for that day. Because at the rate he is coming, two sessions per day and stuff like that."
Yisrael said that in bringing the talented Vieira back he has been doing rehabilitation work with him in the pool and also in the gym.
According to Vieira, since the accident he is more cognizant of the need for fitness.
"I came to Yisrael explaining to him what I wanted and with his knowledge I listened to him and we did it.
Vieira would be competing in the superbike category.
Around the Web