Five athletes and two officials have so far been  confirmed  for the 41st Carifta Games which runs from April 7-9 in Bermuda.
President of the Athletics Association of Guyana (AAG) Colin Boyce, yesterday disclosed that out of the five, the two long-distance athletes,  Samuel Kaitan and Andrea Foster, are on the team.
According to Boyce, this is so because both were exclusively sponsored; Kaitan by the Guyana Olympic Association (GOA) and Foster by the fact that her coach, who is on the team, works at AINLIM.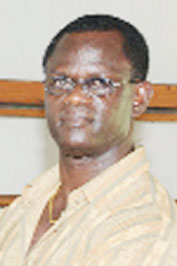 However, Boyce chose not to disclose the other three confirmed athletes as he said he did not want to dash anyone's hopes in case the full squad does get to go.
He did mention, however, that the other three would come from their priority list which includes sprinters Chavez Ageday, Stephan James, Tevin Garraway and Davin Fraser along with long jumper Timothy Fullington.
Boyce, in the telephone interview, added that while this is the situation at present, he believes that the full team will travel once pieces fall into place.
"I've talked to all the parents and we are fighting for everyone to go but I have a strong feeling that everyone will go.
"I'm working assiduously for this to happen, we are working on the uniforms and we are getting pieces together," Boyce commented.
Boyce said he believes that once sponsors come on board during the weekend the AAG will know the exact status of the team by Tuesday.