From Colin Benjamin in Trinidad
Another typically gritty innings from Michael Hussey along with disciplined late afternoon bowling were the cornerstones that led to Australia asserting an early advantage on a rain-affected second day of the penultimate Digicel 2012 test at the Queen's Park Oval ground, Port-of-Spain, Trinidad, yesterday.
At stumps on the slightly extended day's play which concluded at 5:41pm, the West Indies were precariously placed on 49/3, still some 262 runs adrift of Australia's first inning's score of 311 all out.
At the post-match press conference at the end of the first day, both the "Shane's" – Watson and Shillingford had articulated that the modus operandi for the remaining days' play for their respective units, was to either score a minimum of 300 (Australia) or to restrict the score to around 250 (West Indies).
The West Indies, however, were the ones to draw first blood, getting the perfect start early in the second over yesterday morning towards achieving their aim.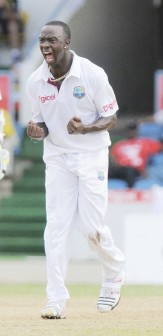 Without further addition to the overnight score of 208/5, Kemar Roach had Matthew Wade caught by Darren Bravo at first slip, as he lured the wicket-keeper batsman into fishing at a delivery that was seaming away outside the line of off-stump.
James Pattinson playing his first test of their series,  joined Hussey and for the remaining 20 overs of the shortened session due to two rain breaks at 10:46 and 11:49, the duo batted eruditely in the face of decent bowling from the home side, mainly from the Shillingford/Roach combination.
Shillingford especially continued from his solid economical bowling efforts on the first day and his battle with Hussey was an engrossing contest.
Hussey was beaten constantly by big spinning off-breaks but the 36-year old, who is playing his 72nd consecutive test for Australia, was still good enough to hit boundaries off the very few loose deliveries Shilingford bowled to him.
He also managed to get the necessary singles to rotate the strike.
Wicket-keeper Carlton Baugh junior's poor match with the gloves continued as he gave the West Australian the second life of his innings when he missed a regulation stumping chance.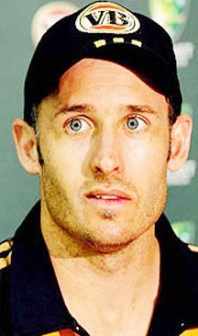 Hussey was then 47 and the total 247/6 in the 105th over.
Soon afterwards, Hussey, colloquially referred to as "Mr. Cricket" reached his 27th test match half century off of 167 minutes and 138 balls as he once again played a key hand in rescuing Australia's innings (albeit with some major assistance) from a wobbly position to one of safety.
After the second rain break which stopped play for 140 minutes with AUS on 267/6, at the resumption at 2:10pm, a further 54 overs with close off time at 6:00pm was scheduled, depending on the weather and light conditions.
The Hussey/Shillingford duel continued with much of the same dynamics of the opening period of play.
Just a mere 22 runs were scored in 11 overs after the resumption with both batsmen clearly flummoxed for ideas to deal with the appreciable turn being extracted by the Windwards man.
Luck however went the batsmen's way as Hussey edged a delivery just shot of first slip before in a brave, but instinctive moment of batting, Hussey probably fed up, broke the shackles when he slog swept Shillingford for a massive six that hit the top tier of the "Trini Posse" stand", to move from 61 to 67 and the total to 289/6 in the 122nd over.
Two overs late with the score on 297, Hussey 's excellent knock of 73 (248 minutes, 207 balls, 4×4, 1×6) ended when he failed to keep his trademark cover drive on the ground and managed to loft it to Kraigg Braithwaite a cover, giving Narsingh Deonarine his second major scalp of the innings.
First ball next over without additions to the score, Pattinson's stoic 156-minute vigil also ended as he attempted to turn a Shillingford  off-break into leg-side, got big leading edge that ballooned into the air and was caught by Bravo coming in from cover although he collided somewhat comically with Adrian Barath at short leg.
Five overs and 14 runs later, Australia's pedestrian innings that crawled along at a rate of 2.30 runs per over was ended by Roach who comprehensively bowled then trapped lbw (although it was reviewed) tailenders Ben Hilfenhaus and Michael Beer.
Roach completed his third test five wicket-haul and first since he claimed 5/100 against Sri Lanka, in November 2010, at Colombo.
In a surprising, if not totally unexpected move, Michael Clarke gave the new ball to left-arm spinner Beer and the opening exchanges of the West Indies innings was akin to watching paint dry, as openers Braithwaite and Barath took 32 deliveries to get off the mark before Braithwaite was duly dismissed for a nine-ball duck in the fourth over.
Local boy Barath seemingly bewildered as to how score off of Beer and eventually was sent packing, when he played back to an arm-ball.
It became 38/3 when Kieron Powell who has looked out of order all season was trapped leg-before to Pattinson's first career delivery in the Caribbean.
Bravo gave the crowd something to cheer at the end playing two pugnacious Brian Lara-like lofted drives off Beer and in partnership with Shivnarine Chanderpaul, took the home side to close without any further damage.
The partnership between the duo of current and veteran left-hand star maestros when play resumes today at 9:30, will largely determine  how the West Indies will fare in this test match.
Scoreboard
AUSTRALIA 1st innings
(overnight 208 for five)
D Warner c Sammy b Shillingford              29
E Cowan lbw b Roach                                      28
S Watson c Barath b Shillingford               56
R Ponting c Sammy b Roach                         7
*M Clarke c Shillingford b Deonarine      45
M Hussey c Brathwaite b Deonarine        73
+M Wade c Bravo b Roach                            11
J Pattinson c Bravo b Shillingford             32
B Hilfenhaus b Roach                                        5
N Lyon not out                                                    7
M Beer lbw b Roach                                          2
Extras (b5, lb5, w1, nb5)                               16
TOTAL (all out, 135 overs)                      311
Fall of wickets: 1-53 (Warner), 2-65 (Cowan), 3-83 (Ponting), 4-167 (Clarke), 5-178 (Watson), 6-208 (Wade), 7-297 (Hussey), 8-297 (Pattinson), 9-309 (Hilfenhaus), 10-311 (Beer).
Bowling: Edwards 23-11-45-0, Roach 27-5-105-5, Sammy 16-6-27-0, Shillingford 49-17-92-3, Deonarine 20-6-32-2,
WEST INDIES 1st Innings
A Barath lbw b Beer                                         7
K Brathwaite lbw b Hilfenhaus                    0
K Powell lbw b Pattinson                              19
D Bravo not out                                                16
S Chanderpaul not out                                     1
Extras (nb6)                                                        6
TOTAL (3 wkts; 25.3 overs)                    49
To bat: N Deonarine, +C Baugh, *DSammy, S Shillingford, K Roach, F Edwards
Bowling: Beer 9.3-5-22-1, Hilfenhaus 5-3-12-1, Lyon 8-4-9-0, Pattinson 3-2-6-1,
Position: West Indies trail by 262 runs with seven wickets intact.
Toss: Australia.
UMPIRES: Marais Erasmus, Ian Gould; TV – Tony Hill.
Around the Web