The newly formed Saints Hockey Club scored an major upset when the clubbed Old Fort 6-0 while frontrunners Hikers and All Greys battled to a high-scoring 4-4 draw in matches of the John Fernandes Insurance Service second division hockey league played at St. Stanislaus ground over the weekend.
Playing on their home ground Saturday afternoon, Saints capitalised on a double strike by  Parmanand Dindial to maul the much-touted Old Fort side.
Joel Hunte opened the account for the winners in the 11th minute before Dindial struck in the 22nd and 30th minute to give their team a handsome lead at half time.
Kevin Edwards then scored in the 30th, Yannick Peters in the 34th and Hilton Chester in the 66th to secure victory for the tournament debutants.
The much anticipated match between unbeaten frontrunners Hikers and All Greys produced another blistering encounter which ended 4-4.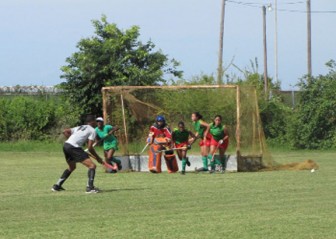 All Greys, the veteran side opened the scoring with a blistering shot from Damon Woodroffe in the 5th minute. However, Hikers answered with a goal by Hubert Forrester in the 17th minute to level the score.
A defensive blunder by Hikers gave All Greys a penalty stroke which was easily converted by Woodroffe in the 18th minute.
Former national Under-21 player George Melville replied for Hikers in the 23rd minute but Alan Fernandes struck again for All Greys as the see-saw battle intensified.
Travon Younge equalised for Hikers taking the score to 3-3 at half time.
At the resumption Fernandes scored again but minutes before the final All Greys utility player Ivor Thompson was red carded and Hikers capitalised on the player's departure to score their four goal following a strike by young Jamarj Assanah in the 57th minute.
Saints were not so lucky in their second clash of the weekend, going down to Airbenders 2-1 Sunday in the all-female team's  first win of the competition.
Leading female strikers Kerensa Fernandes and Avonda James scored for Airbenders while Joel Hunte converted for Saints.
GCC and Old Fort played to a 2-2 draw in the second game. Eric Hing netted both goals for GCC while Terry Shaw and Onassis Fraser were the goal scorers for Old Fort.
Around the Web