The inclement weather on the crucial fourth day's play of the second Digicel test at the Queen's Park Oval, Port-of-Spain, Trinidad, between Australia and the West Indies, yesterday prevented
either team from claiming a decisive advantage at close of play.
When stumps were drawn, Australia, in their second innings, were 73-3 an overall lead of 127 runs with seven wickets intact.
Before the heavens opened up however, the Australians wasted little time in wrapping up the home side's first innings.
The West Indies with Guyanese narsingh Deonarine and Shivnarine Chanderpaul to the fore, had staged a promising fight-back during the afternoon and evening sessions of the third day.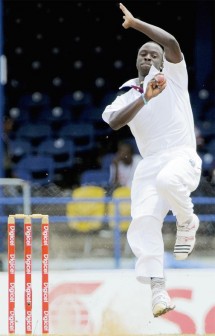 They began promisingly yesterday with  wicket-keeper Cartlon Baugh jr.,  elegantly slapping the fourth delivery from left-arm spinner Michael Beer to the point boundary.
The shot brought the early morning crowd to life.
Beer, however, was to have the last laugh as Baugh was trapped leg-before wicket attempting an audacious sweep shot when on 21.
He had faced 72 balls and struck two fours.
The West Indies were dismissed for 257 in 104.4 overs, losing their last six (6) wickets for 27 runs in 106 balls in another collapse.
For the rest of the day, the cricket action was restricted to short, sharp sessions as the West Indies, led by Kemar Roach, fought back.
With a first innings lead of 57, aggressive little left-hander David Warner began the visitors' reply in positive fashion by stroking three clinical early boundaries in the opening three overs.
Two off the boundaries came off Fidel Edwards in the second over as Warner dispatched half-volleys that were pitched on the leg and off-side to the respective on and off-side boundaries.
The third boundary, which came off Shane Shillingford in the next over, was a controlled sweep-shot to deep backward square-leg boundary.
Warner's opening part Ed Cowan then gained a massive reprieve in the fifth over when the unlucky Edwards found the outside edge only for captain Darren Sammy to drop a waist high sitter at first slip.
Australia scored a meagre 12 runs in the next six overs without losing a wicket but the introduction of Roach in the 11th over did the trick.
With the second ball of his spell Roach  accounted for Warner caught by Darren Bravo at slip to a delivery that seamed away from around the wicket.
He struck again with the fifth ball of that over when Shane Watson was bowled for a third ball duck by a delivery which sent  his off-stump cartwheeling.
Ricky Ponting walked to crease but was almost back in the pavillion before he had scored after almost being run out.
The Tasmanian alliance of Ponting and Cowan fought to survive not only Roach's testing spell but also had the guile of Shillingford's off-spin.
A difficult chance to short-leg off the last ball of 13th over saw  Adrian Barath put down the chance from Ponting as he prodded forward to a sharp spinning off-break that spun in from outside off-stump from Shillingford.
Nine runs were scored off the next seven overs before the first rain delay at 11:14 saw the teams taking an early lunch with Australia on 40/2.
Play resumed at 12:42 and Ponting survived a close leg-before review when on 20 to his nemesis Roach with the score 54/2.
The Umpire Decision Review System (UDRS) replay showed Roach's sharp in-swinger, which had struck Ponting on the pad, was marginally missing leg-stump.
Roach induced another UDRS, lbw appeal three balls later, this time against Cowan, and this time he was not to be denied as the left-hander was sent packing for 20, leaving Australia in a bit of bother on 57/3. Ponting looking reasonably assured for the first time in the series, played a few delightful on-side shots, but the rain came again for the final time at 1:35pm with Australia on 73/3 and play was eventually called off for the day at 4:10pm.
In yesterday's article a paragraph which was taken from Cricinfo was not given the necessary attribution. We regret the omission.
Scoreboard
AUSTRALIA 1st Innings 311
WEST INDIES 1st Innings
(overnight 252 for nine)
A Barath lbw b Beer                                           7
K Brathwaite lbw b Hilfenhaus                       0
K Powell lbw b Pattinson                                19
D Bravo lbw b Hussey                                      38
S Chanderpaul lbw b Lyon                             94
N Deonarine st Wade b Lyon                         55
+C Baugh lbw b Beer                                          21
*D Sammy c Hussey b Lyon                              1
S Shillingford c Cowan b Lyon                         4
K Roach c wkp Wade b Lyon                            0
F Edwards not out                                                0
Extras (b1, lb8, w1, nb8)                                   18
TOTAL (all out, 104.4 overs)                    257
Fall of wickets: 1-0 (Brathwaite), 2-26 (Barath), 3-38 (Powell), 4-100 (Bravo), 5-230 (Deonarine), 6-231 (Chanderpaul), 7-237 (Sammy), 8-241 (Shillingford), 9-249 (Roach), 10-257 (Baugh)
Bowling: Beer 25.4-9-56-2, Hilfenhaus 16-4-39-1, Lyon 29-9-68-5, Pattinson 11-2-40-1, Hussey 6-1-19-1, Watson 12-5-14-0, Warner 3-1-9-0, Clarke 2-0-3-0.
AUSTRALIA 2nd Innings
E Cowan lbw b Roach                                    20
D Warner c Bravo b Roach                          17
S Watson b Roach                                             0
R Ponting not out                                           32
M Clarke not out                                               3
Extras (nb 1)                                                       1
TOTAL (3 wkts, 30 overs)                      73
Fall of wickets: 1-26 (Warner), 2-26 (Watson), 3-57 (Cowan)
Bowling: Edwards 5-2-13-0, Shillingford 15-3-33-0, Roach 10-1-27-3.
Position: Australia lead by 127 runs.
Toss: Australia.
Umpires: Marais Erasmus, Ian Gould; TV – Tony Hill.
Around the Web