National 400 metres junior champion Stephan James retained his epithet by spoiling any chance newly crowned junior 200 metres champion Elton Bollers had of claiming a sprint double when the National Junior and Senior Championships concluded yesterday at the Police Sports Club ground Eve Leary.
Bollers, who catapulted himself into the limelight by running the race of his life last Saturday to upset well known sprinting stars in James and Chavez Ageday, was quickly brought back to reality by James who blew away the 400 metres field from the blast of the gun by approximately seven metres with a time of 48.90s.
Bollers finished second in a time of 51.30s while Kadeem Peters placed third in 52.30s.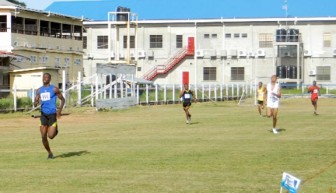 This year's 1500 metres CARIFTA Games bronze medalist Andrea Foster showed signs of probable tiredness by clocking a slow 11:22.70s to win the female Under-18 3000 metres compared to the sub 11 minute 3000 metres she ran at the CARIFTA Games.
The men's 200 metres which was won by Patrick King in a time of 21.40s turned out to be slower than Bollers' Under-20 200 metres time of 21.00s the previous day. Winston Caesar was second in the men's 200 clocking 21.90s while Leslain Baird was third in 22.10s.
Nathaniel Giddings got the better of Devon Barrington in the boys'Under-20, 1500 metres  winning the event in a sprinting fashion with a time of 4:19.20s while Barrington clocked 4:23.50s for the second position.
Sprinting queen Alisha Fortune duplicated her 100 metres dominance on day one in the 200 metres yesterday by trouncing the field by approximately three metres to finish in a time of 24.40s with Neisa Allen placing second in 25.00s. Alita Moore transferred her explosiveness from the jumping board to the female Under-20 100 metres by upstaging favourite Tiffany Carto in the absence of Letitia Myles to win in a time of 12.30s. Carto finished closely behind for the second spot in a time of 12.50s.
Shuffling down to the Under-18 category Tirana Mitchell held off a surging Shoquane Daniels in the final 50 metres of the female 200 metres to win in 25.30s while Daniels 25.60s placed second
In the male version of the Under-18 200 metres Tevin Garraway claimed the sprint double by running away with the event in a time of 22.00s finishing ahead of Jason Yaw's second place time of 22.50s.
Two-time 1500 metres CARIFTA Games gold medalist Jevina Straker ran a smooth 5:00.40s to win the female Under-20 1500 metres on day two of the event.
Tiffany Smith dipped under the one minute mark to register a time of 59.90s to claim the female Under-20 400 metres ahead of Carto's 1:00.50s which got her the second spot.
Inter Guiana Games silver medallist got in the mix of things by winning the Under-18 boys' 800 metres in a time of 2:02.30s.
Kevin Bailey was also in good form, picking up wins in both the men's 800 and 1500 metres yesterday.
Bailey ran a fast 800 metres time of 1:55.90s to claim the 800 metres while producing a time of 4:11.30s to win the 1500 metres.
After finishing third in the female discus on day one of the championships Saturday, Natasha Alder returned to claim both the shot putt and discus events with throws of 9.36 metres and 31.69 metres respectively.
Earlier in the day, Caesar won the male triple jump with a distance of 14.18 metres while Troy Williams 13.34 metres and Leon Bishop 13.00 metres finished second and third respectively.
Track and Field action on the Athletics Association of Guyana's calendar will continue on April 29 with the National Under-23 games at the Police Sports Club ground Eve Leary.
Around the Web