Nikkoloi Smith's triple-double of 29 points, 11 rebounds and 10 steals led Plaisance Academy to their first victory when the Youth Basketball Guyana Georgetown Conference tipped off last Sunday evening at the Cliff Anderson Sports Hall.
Smith started the proceedings off for Plaisance with a one-handed tommahawk dunk that registered their sixth point. The team never looked back as they defeated Guyana School of Agriculture (GSA) 63-48.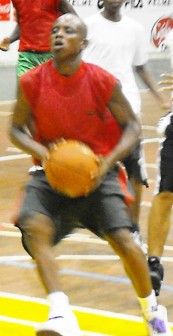 GSA always looked unsettled against the constant high octane pace which Plaisance played at, especially when Smith constantly penetrated the GSA defence.
Nicholas Cassius also contributed to Plaisance's win with 11 points and six rebounds. Jamal Watson played well for GSA but his 24 points with most coming from point blank range were simply not good enough to overcome the energy of the Plaisance team.
Meanwhile, Marian Academy showed why they are one of the better Georgetown teams in the conference by defeating Queen's College 55-22. While Marian displayed a structured system on the court it was evident that their offence was a bit stagnated as they mainly scored off fast break points from solid 2-3 zone defence. Tequan Vieira was the high point man for Marian with six rebounds while Ruel Ritch contributed 14 points and seven rebounds in the blowout win.
University of Guyana (UG) was also in action as they defeated St. Rose's High School in a low- scoring encounter that finished 25-17. While one might attribute poor defence to such a low score, both teams shot horribly from the field while committing numerous turnovers.
It was a scrappy game by both teams which strayed from the aim of the game in general which is to put the ball in the basket.
However, because of UG's size they were able to out rebound St. Rose's. Clayton Reece scored a double-double to lead UG past St Rose's with 10 points and 11 rebounds while Gregory Mentore collected 13 rebounds for UG.
Earlier in the day, President's College trounced Charlestown 80-38 to register their first win of the tournament. Nyamebekyere Bacchus, Devon Warren and Kade Pearce all scored in double digits to blow out Charlestown with scores of 17, 16 and 14 points respectively.
Kaya Dover was the only player for Charlestown in double figures with 10 points in the lopsided loss.
The Georgetown Conference will continue this weekend with more action and giveaways for families of players and supporters of the respective teams.
Around the Web