JOHANNESBURG, (Reuters) – Suspended Cricket South Africa (CSA) chief executive Gerald Majola faces a criminal probe and a civil claim for the repayment of illegal bonuses allegedly paid to him by the Indian Premier League.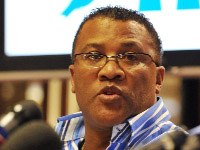 "A civil process will be launched by CSA….The Hawks (South Africa's Directorate for Priority Crime Investigation) have also been to CSA and are in the process of their investigation," sports minister Fikile Mbalula told reporters.
"They're on top of it, but we don't know the outcome yet. We have to respect the process because it's not up to us to arrest people. It was a smooth operation, not done Hollywood style, because that way things get done properly."
Judge Chris Nicholson announced last month that Majola had "surreptitiously" received 1.8 million rand ($231,200) in unauthorised bonuses from the IPL, as well as irregular travel expenses, in contravention of the Companies Act.
Nicholson recommended that Majola be suspended, the bonus money be recovered and that CSA undergo restructuring of their board and governance processes.
Around the Web