By Iva Wharton
The uncertainty is over, Alpha `The Hammer' United is officially out of the Caribbean Football Union (CFU) club championships.
So said president of Alpha United Odinga Lumumba yesterday.
Lumumba told Stabroek Sport that the club had received correspondence from the CFU indicating that they would take no further part in the competition.
Alpha United had placed second in the first round of matches of the competition at the Providence national Stadium from April 17-21 but there was some uncertainty over whether the team had in fact qualified for the next round with the Guyana Football federation General Secretary Noel Adonis stating recently that they had written CFU seeking clarification.
Suriname's Inter Moengotapoe emerged winners of the group after playing unbeaten winning all three of their matches to end with nine points. Alpha United had six points from two wins while Hubentut placed third with a solitary win and Milerock fourth.
Lumumba yesterday said he felt that the rules of the competition were not fully adhered to.
"The tournament rules clearly state that the tournament has four divisions that the winner and the top second place club of all groups will go forward. As you know we won two games. If you look at the chart we are the only second place team with six points."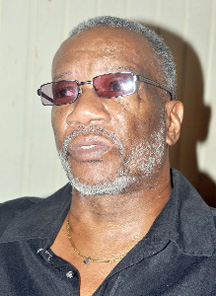 According to Lumumba, he subsequently received a letter via email from the acting general secretary of CFU, Damien Hughes which stated …. "That for whatever reason only three teams played in two of the groups therefore our match could not count.
"What is amazing about this is that they knew this before the tournament started, they knew that there weren't three teams in a division. In the case of Haiti the two Haitian teams beat the Puerto Rican team but when they played each other they played mysteriously to a one-all draw, so under this new rule that mysteriously showed up the two Haitian teams qualified for the next round because they both have four points".
Lumumba said that he intends to take action that would see his club back into championships.
Lumumba said there was also a second issue.
"The rules of CFU clearly states that the number one and number two teams of each country that participate in their national league tournament will qualify for the CFU. Neither, Puerto Rico Highlander or Antigua Baracudas participated in any national league therefore they too should be disqualified," he charged.
Lumumba said that the club has given the Guyana Football Federation four or five days to address the matter and if by Tuesday Alpha is not included then other steps would be taken.
Around the Web