National football coach Jamaal Shabazz described the Golden Jaguars 1-3 defeat by  Mexico in their opening, third round, World Cup qualifier on Friday night in Mexico, as an important learning curve in the team's journey.
During an exclusive interview with Stabroek Sport in the V.I.P lounge of the Cheddi Jagan International Airport when the team arrived on Saturday night, Shabazz gave his thoughts on the team's performance against "El Tri" at the world famous Estadio Azteca stadium and tomorrow's home game versus Costa Rica at the Providence National Stadium.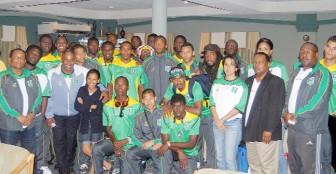 "The experience in Azteca was a very good one for us. Of course, the result was not one what we liked, but we got the opportunity to attack against a mighty opponent and it's an important learning curve on this journey.
"What we learnt most of all was the importance of crowd support. The whole of Mexico from the moment we arrived was against Guyana. From the airport, while we were at the hotel, walking through the malls, people were telling us we would get slaughtered. So their participation was very important and it further proves why the people in this country as the "12th man" need to support us like that on Tuesday night."
Shabazz also commented on the noticeable improved second half performance by the team and his potential plans for the visiting Costa Ricans who surprisingly drew 2-2 to El Salvador a result  which has thrown Group B wide open.
"I think our improved second half performances were down to several things. The team grew in confidence and  tactically, we brought on Gregory Richardson to try and win the ball high up and help give another attacking option with Carl Cort and give the Mexican defense many worries," he recounted.
"We pressed them in high altitude and created five clear cut goal scoring opportunities so we felt our tactics were spot on. However, we still didn't get the result. This is the game at this level only once before have Mexico lost a World Cup qualifier in their history at their ground and they are unbeaten since 2002. So it was always going to be difficult," Shabazz stated.
When asked if the strike duo of Cort and Richardson would start versus Costa Rica based on how well they played together in Mexico, Shabazz stated that he was keeping his cards close to his chest, but noted that the team in general was still likely to remain cautious in their tactical approach.
"I don't know yet because we think Costa Rica is another Mexico, another monster in CONCACAF. We can't be too open in the way we play, so we will discuss with senior players and staff before the session about tactics for that game. No doubt it's very tempting maybe to have a more offensive approach, but we have to remember where and who we are in this football world and need to remain cautious and not overly adventurous.
"This is not a cartoon where Batman or Spiderman win at the end – this is a tournament where we could get hurt badly and I'm sure the whole of Guyana may have been worried when we conceded two goals so easily so early – that we maybe could have conceded 10," Shabazz said in a passionate tone.
One of the most surprising omission's on the night was that of veteran defender Charles `Lily' Pollard. When questioned about that situation, Shabazz noted it was more down to picking what he felt was the best team for that game.
"We felt at the time based on the training we had leading up to the game and our Columbia high altitude camp,  the team selected, was better for that game. The players are very mature and understand they could be in and out of the starting line-up so Pollard's absence was nothing to do with me feeling for example that he didn't have the ability to play at that level.
"Richardson also didn't start as you saw and he is another top player – but he did his job very well when he came on in the second half in the role that was set out for him."
In closing the national coach issued another plea to the Guyanese fans to come out and support.
"The fans need to understand this is a wonderful opportunity to participate in a World Cup qualifying event. We faced 100,000 partisan supporters against us in Mexico – so we are urging the fans to make their presence felt in a similar way and give Costa Rica similar hell at Providence."
Kick off time for tomorrow's game is 20:00hrs and the admission is $3000.v
Around the Web