By Emmerson Campbell in Grenada
Guyana's Golden Jaguars crashed out of this year's Caribbean Football Union (CFU) Cup tournament after losing their second Group Six game last night at the Grenada National Stadium here in St George's.
After going down one-nil to Haiti on Wednesday, the host dubbed the 'Spice Boyz' took the bite out of the Jaguars and earned a two-one victory in front of a small but boisterous crowd.
Goals by Kithson Bain, one minuteafter halftime (46th minute) and Clive Murray (81st minute), coupled with point blank misses, put paid to the locals' hopes of qualifying for the finals in Antigua next month.
A 48th minute goal by Daniel Wilson was not enough for the visitors who once again squandered several chances to score.
Grenada started aggressively as Bain and Craig Rocastle had Guyana's goal keeper, Derrick Carter busy as he had to make brilliant saves in the fourth, eighth and 21st minutes to keep the host scoreless.
The locals could have gotten the advantage but Shawn 'Bubbly' Beveney missed at point blank range off a pass from Trayon Bobb in the 30th minute as did Wilson nine minutes later.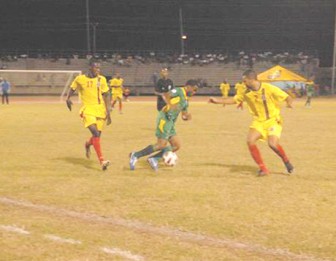 The teams battled to seize the initiative but went to half time nil all.
Grenada and Guyana came out of the locker rooms aggressively and both teams were rewarded.
Bain beat Carter after he tapped in a pass from just outside the six-yard box and Wilson equalized two minutes later with a right foot screamer just inside the 18-yard box.
The Jaguars had several chances to claw their way to a win but substitute Dwain Jacobs and starter Walter Moore blasted the cross bar of what should have been easy goals.
Murray sent the fans into a frenzy after he iced the game by eluding an outstretched Carter with a right foot slam on the edge of the box.
Perhaps if the team had players such as star striker Gregory 'Jackie Chan' Richardson,starters, Ronson Williams, Konata Mannings, Anthony 'Awo' Abrams and Dwight Peters who did not compete because of money related issues, they would not have lost to the #149 FIFA ranked Grenada side.
Guyana is ranked #116 by FIFA.
The senior men's national football team will be playing for pride when they tackle their other Group Six foe, French Guiana, who defeated Haiti one-nil in the first game of the double header last night.
Kick off time for tomorrow's game is 18:00hrs at the same venue.
The points standings heading into tomorrow's games are as follows Grenada four points, French Guiana four points, Haiti three points. Guyana is in the cellar without a point.
The top two teams in this group will qualify for the final.
Guyana's starting 11 was Christopher Nurse (Captain) ,Derrick Carter (goalkeeper), Wilson, Beveney, Bobb, Jake Newton, Walter Moore, Charles Pollard, Vurlon Mills, Kester Jacobs and Jamaal Smith.
Grenada's 11 was Bain, Rocastle, Murray Shemel Louison( goalkeeper), David Cyrus, Cassim Langaigne, Marc Marshall, Michael Mark, Anthony Straker, Raymond Alleyne, Moron Phillip,
(Caption) Action during last night's CFU Cup, Group Six game between Guyana and host Grenada at the National Stadium here in St. George's. (Orlando Charles photo)
Around the Web