Trevor Rhone's Old Story Time has now become one of the most revisited plays produced and performed in Guyana.  In the earlier years there was great interest in it because in the nineteen eighties and nineties it had rocketed to fame as one of the 'hottest' plays in the Caribbean.  Its immediate impact had to do with the handling of obeah, forever a popular drawing card in the theatre, as well as the resounding impact of its first run in Kingston.  After that it endured because of the outstanding quality of the drama, the engaging properties of its theatre and what it had to say to an audience.  But in more recent years its popularity has been prompted by the fact that it is a set play being studied by schools for CXC Literature.

The drama was created by Rhone in 1979 and immediately made its mark upon Caribbean theatre the moment it opened in Kingston.  He staged it at one of the small theatre spaces in the Jamaica Pegasus Hotel where it ran for more than a year through 1980.  It is one of the region's most powerful dramas and this was made emphatic in this production by the creation of the lead roles by Charles Hyatt as Pa Ben and Leonie Forbes as Miss Aggie.  These are two of the greatest known performers on the Jamaican stage and have both become legends, contributing to the success of what is still recorded as the most outstanding performance of the play to date, and benefiting from roles which truly tested and immortalised them.
However, what is not so well known is that that was really the second production of the play.  Old Story Time was really developed and premiered in Nassau, Bahamas with Winston Saunders as Pa Ben.  In fact, Saunders, an attorney-at-law as well as an actor prominent in the theatre of his home town, was actually a collaborator in the development of the play, since Rhone had first sketched Pa Ben simply as a narrator telling the story somewhat in the fashion of Bertold Brecht.  Both the playwright and Saunders recognised that something was missing and worked to develop Pa Ben as a character integrating the roles of story-teller and main character.  Rhone then filled out the drama and added new dimensions to it, making it a fuller, more dynamic play.
The play's history in Guyana starts in the early 1980s with a production at the Theatre Guild in which Pat Cameron was Miss Aggie.  In later productions Ron Robinson established himself as a memorable Pa Ben, appearing opposite Rosamunde Addo in a Theatre Company production, and most recently in 2010 with Simone Dowding as Miss Aggie in a new Theatre Guild performance, which he directed.  Final year English students have presented the drama in different years in 'University Theatre' on the Turkeyen Campus, and Mackenzie High School performed it in 2011 directed by Grace Chapman.
The most recent staging of Old Story Time in Guyana was by Top Cat Productions directed by Godfrey Naughton.  This company seems to have undertaken the task of performing set plays for the benefit of CXC students of CSEC English 'B', and started with a successful production of August Wilson's Fences in 2010.  The staging of Trevor Rhone is their second attempt in this brand of edutainment which has brought drama alive for the entertainment and instruction of several schools around the country.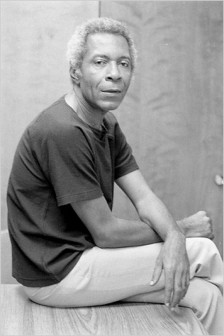 This production of Old Story Time was not nearly as compact, neat and polished as Fences, but it did its job of making the story of Len Tomlinson understandable and meaningful for the audience.  It had an unfinished look about it, somewhat lacking in thoroughness and attention to dramatic details.  At the Cultural Centre it was played on a very lazy set with no enhancement and no clarity about whether it was trying to be realistic or attempting to meet the demands of improvisation and flexibility which the structure of the play calls for.  The blocking was imprecise and actors moved arbitrarily across the seemingly unfinished set.
But it was a travelling production that had been moving from New Amsterdam to Linden, to Georgetown and other locations on makeshift stages and performance spaces, and needed to rely on the understanding and imagination of the audiences.  The shortcomings of the set did not unduly impede the understanding of the drama and its many flashbacks.  But it did render one of these flashbacks ineffective.
One of the main issues in the drama is an obsession with hatred, vengeance and a determination to put paid to one's adversaries.  This needs to be countered by forgiveness, love and human bonding, as the play teaches.  Len Tomlinson, played by Travis Chase, is obsessed in this way and one of the play's elements of mystery and suspense is the question of what it was that drove Len to pursue George McFarlane (Chris Gopaul) with such relentless venom.  Similarly, what could have caused him to harbour such ill-feeling against his own mother for some 30 years.
The answers to this lay in the fact that George, the villain of the piece, commits wrongs not only against society but against Len personally.  He tries to swindle Miss Aggie (Len's mother – Nicola Moonsammy) and once blackmailed and exploited Lois, Len's wife (Timolyn Barclay).  But Rhone held back the main offence that Len bitterly harboured from boyhood to well into his adult life as one of the play's suspense strategies.  Len was bullied at school by George, an older boy, and his white upper class friends who severely brutalised him in one particular incident that caused Len's life-long hatred and lust for revenge.  At the root of it is his mother's brutal insistence that he should shun the company of black girls and court light-skinned mulattoes like Miss Margaret.  This is what led to the brutal attack for which Len blames his mother as much as he does George.
In the play's final flashback, Len at long last reveals this, and it is therefore an important and impactful scene at the end of the play.  However, this was one of the sequences ineffectively handled by the director and the actors Gopaul and Chase, because of lazy blocking, half-way set and lame conceptualisation.
Yet there was strength in the overall presentation of the play and its impact from the point of view of the audience who related well with the characters whom they no doubt understood.  The story-telling style and setting with its appropriate folk music helped mood and atmosphere.  There was a tendency for the main actors, Godfrey Naughton, Nicola Moonsammy, Travis Chase, and Timolyn Barclay to give the impression of over-playing in their first appearances, but all managed to warm to the audience and to their roles as the play progressed, and one became accustomed to them in character.
This was particularly the case with Moonsammy as Miss Aggie, who managed to capture the right nuance of spirit possession when she gets into obeah mode.  Naughton started out as a fairly aggressive Pa Ben, but as a very strong actor he took effective control of the role, understood the integration of narrator and character and more often than not, looked the part.  He managed a form of the Jamaican language well enough for it to pass unnoticed, and was comfortable with it among his performance strategies.
Chase is a steady performer with subtlety and an understanding of technique.  Yet, although he was very believable as Len, his main tendency was to over-act.  This he did in his bid to bring out humour at times when it was unnecessary, being already made obvious by the dialogue and dramatic situation.  His antagonist Gopaul was a convincing villain and managed to convey all of George's unflattering qualities.  One of his remarkable achievements was the way his Jamaican speech was, like Naughton's, fluent and unobtrusive, fitting in with, rather than drawing attention to itself in the dialogue of a member of the white bourgoise.  Yet, he followed Chase in hamming it up on too many occasions.
This was Barclay's second outing in the role of Lois which she handled with competence.  It was good that she studied the part and had a concept of it, although this had a distracting side effect.  One of Rhone's ways of showing Len as tormented and obsessed with an old grudge is to convey a sense of discordance in his marriage.  He encloses himself in books and a persistent headache, which is symbolic, such that Lois feels shut out and deprived of affection and romance.  Barclay had a way of overstressing this part of Lois.
It is not often that the parts of Pearl and Miss Margaret are taken seriously by actresses who see them as minor roles.  But indeed Pearl has a symbolic function, first as a pastoral representation of the only happy, innocent, pristine and sensuous episode of Len's boyhood, and then as the ironic "pearl" of neglected and abused rural village womanhood.  In addition to that she is an equally ironic representation of Miss Aggie's concept of black worthlessness.  Candacy Bavaghems played these with serious effectiveness just as she got out the shallow petulance of Margaret, the real "pearl" in the eyes of Miss Aggie.
Naughton's presentation of Old Story Time is timely and necessary.  Not only did it allow students to relate to the text in real terms on stage, but it helped to place it prominently in their minds and accord it a sense of importance.  As something that they could enjoy watching, and as a welcome outing away from the classroom, it would have helped interest in and understanding of the play and have made an impression upon their minds.
Around the Web