. . . Seven days now this womb of sacred waters
Has made its marriage with oblivion
Over the sounding cliff of rock and I
Amalivaca in this tiny wedge
Driven between the witness centuries,
Have drowned my mind within the moving flood,
Married my human to watery particles
Searching the smoothness secret of its power.
There is an ideal Kaieteur of souls
Forever falling finally to death
Dropping their colour, shape and their lost form
From height of time into eternity. . . .
From  Amalivaca  by AJ Seymour    
We received this photograph and these lines of poetry from Mark McWatt who says "This photo was taken by me in 1991, and the passage is from the poem 'Amalivaca' by AJ Seymour, whose work seems sadly forgotten these days."  He explains further "blame Vladimir Lucien for this… the first thing I saw on FaceBook this morning was a quote he posted from Wilson Harris's poem 'Amazon' and that got me thinking of poems about Guyana's interior…"
McWatt also sent the contents of a very brief exchange with artist and poet Stanley Greaves attached to this remark which went as follows:

Greaves: "Dancer Helen Taitt once produced a dance theatre show by that name at Queen's College. She was principal dancer as well. I did the stage design. The overture was a composition by one of the Pilgrim brothers from that Musical family.  The poetry of A.J Seymour is not mentioned these days… as is Wilson Harris' poems written in Guyana. Mahadai Das was also an exceptional poet hardly if ever quoted. All I can say is that poetry always had a very limited following.
McWatt: "I remember hearing about the show 'Amalivaca', but never saw it… Perhaps when Guyanese get over the racial/political turmoil and all the corruption and can think of poetry and the arts again Seymour and Mahadai Das and others will be read and treasured again…"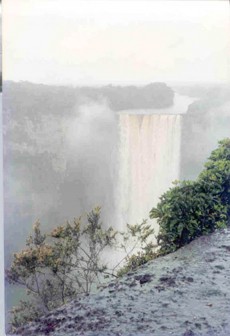 In fact, the picture of the waterfalls and the lines from Seymour's poem Amalivaca seem to belong together and one may say they inspire each other.  Through the lines quoted here we are in the presence of a sample of the best of Seymour poetry. He delves into what McWatt would describe as "interiors of the mind," integrating the awesome depth of Guyana's interior landscape with a concept of a dialogue with the unfathomable unconscious inner depths of the mind – Wilson Harris' "heartland."  It is a metaphysical relationship very often engaged by Harris and McWatt and, in a few poems such as this one, sometimes achieved by Seymour.
Critic (and poet) Edward Baugh remarked that Seymour demonstrates an interest in the Romantic associations of history.  Surely that is to be found in poems like There Runs A Dream and in his choice of treatment given to some landscape poems and legends.  But he can also achieve this interior dialogue with his subject as he does with Amalivaca and Shaman.  Yet his treatment of Amerindian legends is a good example of what Baugh talks about.
Amalivaca is one of these legends.  The poem takes on greater significance at this time because September is celebrated in the Republic of Guyana as Amerindian Heritage Month.  The hero, demi-god Amalivaca is a legendary / mythical character in Amerindian tales.  He is featured in the works of Rev WH Brett, who recorded and re-wrote Amerindian myths and legends and also published The Indian Tribes of Guiana (1868); Alexander Von Humboldt (1769-1859), theorist in the philosophy of geography and founder of bio-geography; and Odeen Ishmael, Guyana Legends: Folktales of the Indigenous Indians.
The epic and heroic treatment that he is given is quite fitting in the context of Amerindian Heritage Month as it is something to celebrate in the Amerindian ethos, Amerindian literature and its contribution to Guyanese literature.  Amalivaca arrived sailing in his canoe in the Essequibo Region when it was covered by great floods and the rivers overflowed their banks.  He was responsible for the presence of the rock drawings and petroglyphs or timehri because he carved them out on rocks as landmarks while finding his way around in the flooded streams.  He is known for his great benevolence; he taught the people several methods of sustainable living including farming, conservation, the making of better canoes and even caused the tide to flow in two directions – up the river channels at high tide and downwards at low tide.
In the story of Amalivaca it is often difficult to distinguish between myth and history, particularly in the retelling of his time spent with the various peoples by novelist Jan Carew.  Carew wrote The Coming of Amalivaca (Guyana Book Foundation, 1998; illustrated by Danuta Radzik).  There is factual evidence of his residence in these places such as the timehri which became exposed when the flood subsided and the Drum of Amalivaca, a hollow rock outside his former dwelling house.
Seymour's is epic treatment of the heroic along with a sense of human tragedy.  He has a similar approach to another legend that he dramatises – The Legend of Kaieteur which is the myth behind the naming and mysteries of the Kaieteur Falls.  There are variants to this myth but Seymour chooses the most noble and heroic.
In the extract from Part II of Amalivaca selected by McWatt and reproduced here there is reference to "an ideal Kaieteur of souls" which speaks of the mighty falls and refers to its grandeur as a metaphor for the human soul.  This would certainly have appealed to McWatt who appreciates the landscape and its extensions of meaning.  He spent many years in the interior, including his formative years, and it has had an indelible effect on his consciousness, his poetry and his fiction.  It is not surprising that these two stanzas from Seymour, among the best crafted and the most metaphysical in the long poem, would have appealed to and inspired him as soon as he got to "thinking of poems about Guyana's interior."
Around the Web