We have been commenting on the state of training in the performing arts in Guyana. We have analysed contemporary dance and the considerable effect official, formal training at the national level has had on the development of dance, both public and private; the formation of companies and schools. More recently we revisited the fundamental role played by the Theatre Guild in training, which built the foundations for the development of contemporary Guyanese drama and the manner in which new and recent activities have revived this function.
Formal training in theatre is a current topic of much discussion and the focus of a number of recent projects. There has been a school of dance since the late 1970s; the University of Guyana has trained students majoring in English and
minoring in Drama; there is now a national school of music and the Department of Culture is planning for the development of a national school of drama.

But there have been different and disparate projects over the past five years aimed at training. The largest might have been the wide ranging Training in Technical Theatre tied to Carifesta X in May to July 2008, which involved hundreds of participants. There were two playwriting workshops in 2011 and 2012 the second of which was a part of the extensive Merundoi training in most of the areas covered at Carifesta. This was extremely deep with a major focus on directing and writing and came closest to a formal training programme in theory and practical.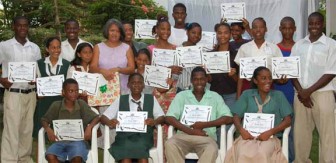 It has already been observed that the activities have so far produced several new Guyanese plays, dramatists in apprenticeship – new playwrights and directors and a few stage managers. The range of strategies included the Theatre Guild One-Act Festivals 2010, 2011 and 2012, the Merundoi One-Act Festival 2012 and the National Drama Festivals 2011 and 2012. The national festival has also encouraged the creation of new full-length plays.
To add to those was the summer workshop held at the Playhouse in 2012 with a closing public performance of "Emerged" on which we commented last week. This emphasized the private and public efforts now taking place in drama, which are reminders of the way many private dance companies and schools developed following the spread of formal training that had been taking place in the dance. There is at least one private school training beginners in acting, and there have been several small private theatre companies, but nothing to equal the extent of private tutorships in dance that exist.
However, before most of these efforts, there were the Youth Theatre Workshops, in 2007, 2008 and 2009. There was a long period of virtual inactivity at the Theatre Guild before work began on its restoration in 2007. During that long period there was little activity in training and development outside of academic courses in the UG Arts programme where it was limited to a few students reading for the Degree in English. Action was taken at that time to provide some of what was missing by GEMS Theatre Productions which held a series of youth workshops in a project supported by CIDA through its Canada Fund for Local Initiatives.
This involved secondary school students and started in May 2007 and ran for four months with classes in writing, directing, acting, stage management and other disciplines, leading to the public performance "Youths in Drama" at the Guild Playhouse in September 2007.
The workshop director was Gem Madhoo-Nascimento director of GEMS. She was once a director of The Theatre Company and holds the reputation as Guyana's best expertise in theatre and production management as well as stage management. She is a co-founder of The Link Show and is responsible for several theatre performance tours overseas in North America and the Caribbean. Madhoo-Nascimento is also a stage director and actress who appeared on screen in the Shivraj film A Jasmine for A Gardner and on stage at the Theatre Guild in her own years as an apprentice.  She has managed several major plays and directed others including Murder at Giuseppe's and For Love of Aidana Soraya.
Madhoo-Nascimento's considerable knowledge of the stage was therefore brought into service in that workshop which culminated in the public performance. This was a programme of short dramatisations developed and performed by the students with guidance from their tutors.
Don't Waste the Waste was done by Usamah Sadiq, Shaquille McAlmont, Teri Ann Phang and Tkisha Walldijk. Painful Consequences was written and directed by Nurriyyih Gerrard and performed by Yusini Maxwell, Tahirih Gerrard, Khiaza Parris, Sean Budnah, Delmore Wallace and Keona McKay.  Another script developed by the students was an improvisation performed by some of these actors along with Keri Marie Phang, Dexter Charles, Yusini Maxwell, Teresa King and Shevon Henry. Keri Marie Phang was assisted by Jermaine Harris in creating When God Was Asleep which the group performed under Phang's direction. A story called Traffic Lights Woes was crafted and performed by Keona McKay, while Yusini Maxwell wrote and directed Shattered Hopes and Dreams which the workshop members also performed.
In all of these the students were guided by Madhoo-Nascimento and other tutors who helped them to develop, edit and improve the writing of the scripts that they improvised and scripted.  These tutors included leading writers Ruel Johnson and Francis Farrier as well as Simone Persaud and foremost actor-director Ron Robinson.
There are two important observations arising from this activity. It was carried out to train youths in the techniques of theatre creation and performance to fill a gap left by an insufficiency of formal training. This seemed to have had some notable results since some of those who were students in those workshops graduated to a higher level in national theatre. They have acted in plays in Carifesta X and many other productions at the National Cultural Centre and at the Theatre Guild. Some featured in and won awards in the Theatre Guild drama festivals and played leading roles in entries in the National Drama Festival in 2012. Among the most prominent of these are Nurriyyih Gerrard, Sean Budnah, Usamah Sadiq, Keri Marie Phang, Teri Ann Phang and Keeona McKay.
Another factor is the schools from which they came. The vast majority, except for a very few, belonged to the less prominent secondary schools and the major institutions have been less evident in these dramatic activities.  It was the same with the Simone Dowding workshop and similar to what obtains in the National Drama Festival where most of the entries are from rural schools.
Other tutors and resource persons in the Youth Theatre Workshop were Russell Lancaster, Jennifer Thomas, Henry Rodney, Daphne Rogers, Beverley Hinds, Norman Dos Ramos, Simone Dowding and Kyle Isaacs.
GEMS subsequently held two more workshops for youth and students in 2008 at the Theatre Guild and in 2009 at Girl Guides Pavilion on Brickdam.
Around the Web