Judges of the television reality series Guyana Model Search (GMS) and Designers' Portfolio had what was described as a very challenging audition last weekend, but managed to pare down over 100 hopefuls to 50 for the shooting of the first episode of the show.
According to a press release, the cast includes male, full figure females and a bevy of hard-to-pick-from size 4 and 6 models.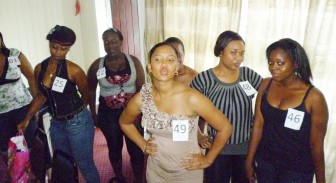 "It was one of the most challenging auditions to execute," the release quoted GMS Creative Director Richard Young as saying. And Richard should know as according to the release, he has had many a casting throughout the Caribbean under his belt. He has also been integrally involved with GMS as well as Guyana Fashion Weekend for years.
The release described the event as "a true, true model casting with its accompanying anxiety and angst, disappointment and dalliance, sorrow and success."
GMS Executive Producer Sonia Noel was elated by the turnout, calling it the best ever. But though excited, she was quick to add that she did not want the unenviable position of the judges.
Meanwhile, 14 "starry-eyed, young, creative budding designers" made their pitch for the Designers' Portfolio section of the show, presenting illustrations and voicing their aspirations, the release said, adding that some came from as far as the interior.
They demonstrated the relevant passion and offered sustainable alternatives to traditional income generation practices. Ten designers need to secure places for the full run of the show.
The release also revealed that this year the event will showcase creative nails and hair styles and invited interested nail technicians, barbers and hair dressers to call 226-3099 for more information.
Judges included former beauty queen, now model and designer Meleesa Payne; Technical Director, Rudy Saul; Hospitality Director, Negla Brandis and first GMS winner Michael Younge.
The live televised finals come off on Sunday July 1, commemorating Caricom Day, the release said.
Around the Web