By Jairo Rodrigues
Colleen Humphrey, a dramatist for 15 years, is not afraid to speak her mind. Her motto 'Be Yourself' truly expresses her persona. During an interview with The Scene, she said countless times in so many different ways that she thinks it would be best if everyone would be themselves; have their own identity. Being yourself is the only thing you can be, it involves having self-confidence and being truthful. But her most poignant line was, "When someone is acting, they are supposed to be acting onstage, not offstage."
No stranger to the stage, just this past Drama Festival season she was in many award-winning plays, including Shana Fraser's Ensnared, Lloyda Garrett's While God Watched and Randolph Critchlow's Saving Grace. Some of her memorable performances were in Makantalli directed by Malcolm De Freitas in 2011, To Sir with Love, Front Yard and Obeah in the Court earlier this year.
Born in Georgetown, she was taken to Barbados to live with her grandmother for three years before returning to her homeland. Colleen lived with her great aunt in William Street, Kitty until the age of 13. She recalls that it was a quiet neighbourhood and she would be climbing the jamoon trees, playing games on the streets, eating goodies and treats from the neighbour's shops, attending dance classes at the National Dance School and swimming in the trench although she couldn't actually swim. A near-death experience prompted her to take up swimming classes.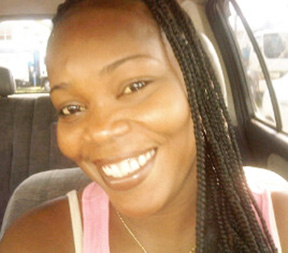 Colleen next lived with her father, whom she describes as strict but caring, was a well-known designer of Mashramani costumes, often designing for John Fernandes Inc, Richard Ishmael Secondary School and others.
It was after he died that she finally lived with her mother. Colleen said her mother told her that she saw her as a strong figure in comparison to her other five siblings and thus she gave her the space she needed to grow. "For that I love her," said Colleen. "She wanted me to be who I really was – a strong, confident person."
When Colleen was around nine, she would make frequent visits to her father on the premises of the Guyana Teachers Union in Woolford Avenue. She would sit upstairs and watch dramatists like Desiree Edghill and Richard Narine rehearse for the play A we Society 2 written and directed by Professor Ken Danns who now resides in New York. When a cast member was absent, she was approached after she was noticed mouthing the lines; she rehearsed for the vacant role and got the position.
From that experience on she had always aspired to become an actress and was in countless productions until the age of 16, when she migrated to Barbados briefly.
"I like being in drama because you can be somebody else… Most people are even afraid to be themselves. It is the perfect opportunity to have a person go about living their life and experiencing the pain, life and emotions of others – so basically it is where I can be somebody else and myself," she said.
She continued to describe the art as freedom of the mind and spirit, "Drama is fascinating, I live drama for me and I have fun with it. I love meeting new people. I love learning about my characters and I love putting my attitude and reality into my work."
Colleen is inspired by God because she believes he tells her all the time that nothing is impossible; her father because he is the one who pushed her most of the times and award-winning actor, Leon Cummings.
One of her greatest and best friends, she said, Cummings plays a big role in her life as well as her career; she loves him for his honesty, integrity and heart. Colleen feels a grave injustice was done to Cummings for not being accredited the National Drama Festival Best Actor award of 2012. "I think a person should be judged for what they can do, not how many times they have been on stage." Leon Cummings' father had died during the production of one of his plays and few people knew for he never broke out of character or showed any grief until after the show.
She loves her fans and supporters dearly, but her biggest fan in the world is her son whom she describes as the apple of her eye.
She aspires to excel in drama for him and make it such a career that she can go abroad to make life a little better for him.
She spoke so fondly of him saying that he is her prodigy since he is loving, caring, impartial and always speaks the "straight up" truth. He is untidy and forgetful too, but she noted: "boys will be boys".
As a dramatist she wishes to take up the role as a writer where she can bring more to the theatrical arts. She would like to create pieces that Guyanese can sit down and enjoy. "Guyanese love drama, but they have to be pumped up by good drama. I am going to be writing a lot of hot plays – a lot of funny, teary, serious and truth… all from my heart starting from next year."
She said that in order to promote drama in Guyana there is s need for energy, youth involvement, investment in advertisements and most importantly making schools aware of real drama.
Colleen loves to sing Karaoke, recite poetry, do stand-up comedy, cook and take long drives.
She dreams of seeing the beauty of the world but would not do so until she explores the vast beauty of her homeland – Guyana.
Around the Web