Sonia Noel's new Black and White collection proved a big hit with the French patrons at the show 'Kreyol Fashion Days' in Guadeloupe, where she also had the opportunity to meet and dialogue with the illustrious French designer Jean Paul Gaultier.
Sonia says Gaultier was smitten with her signature braided hairstyle. "It was great meeting Jean Paul Gaultier and chatting with him for a while. His advice is to be true to yourself and never forget where you came from. Guyana had the smallest contingent there… but I represented well."
She had previously shown at a charitable benefit in St Lucia supporting 'Faces of Cancer' under the patronage of Alvina Reynolds, the Minister of Health, Wellness, Human Services and Gender Relations. This event brought together cancer patients and survivors, medical practitioners, pharmacists and corporate St Lucia to 'Strut for a Cause'.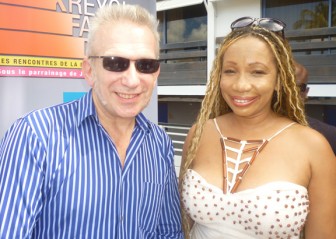 The show was held at Sandals Grande and Sonia was the feature designer with four supporting fashion houses – longstanding St Lucian staple, Sea Island Cotton; newcomer, Nella Collymore's Caribbean Vibes; St Lucian-based California designer Dianne Starr with her line 'Transformations' and the toast of St Lucia, Sharleen Lagon, with her Jaeylu Inc label.
Sonia's Mariska's Designs outfitted Minister of Commerce, Business Development, Investment and Consumer Affairs Emma Hippolyte as well as Reynolds, who made guest appearances on the runway to endorse the project.  Mariska's also outfitted Jeanille Bonterre for her  travel series, promoting the exoticism, romance, adventure, sophistication and luxury of the Caribbean aired on One Caribbean Television, a CBS affiliate.
Meanwhile, Mariska's Designs was presented with the President's Award "For Continuous Ex-pansion and Market Penetration for Guyanese Fashion Design" at the Annual Awards Dinner of the Guyana Manufacturing and Services Association Limited. Shonta Noel, Sonia's younger daughter, accepted the award on behalf of her mother.
Comments

GEMS Theatre Productions presents a new half an hour sitcom "Days Like Dese," a family-oriented comedy that surrounds the Rupauls, a middle-class Guyanese family.

Just three weeks short of the staging of the Miss Guyana Renaissance pageant, twelve ladies are kept busy perfecting dance routines, walk and speeches.

Twenty-year-old Keisha Brazh under the African name 'Serwah Mawusia,' is representing Ghana.

Put to task at the age of just ten to help to create the family's Christmas cake propelled Rabina Shivraj into a world of baking and decoration and today she has learnt the art of hooking her customers, first with her creativity and secondly with the taste of her creations.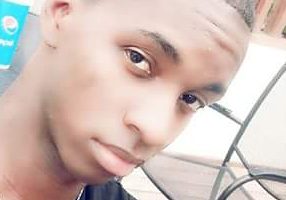 By Joanna Dhanraj With August fast approaching, the contestants of the Mr and Miss Guyana African Roots 2017 pageant are busy perfecting their skills for their big nights.