Joel Ghansham recently announced on his television talk show that he is ready for adoption and will visit orphanages soon in the hope of eventually being able to take home a child he can call his own. In an exclusive interview with The Scene, he talks about going out on a limb; he is fully aware of the what it entails and the probability that he will attract negative remarks and condemnation, but says this will not stop him.
The Scene: So Joel, Why adopt a baby?
Joel: Well… I feel that age is catching up with me, my maternal instincts are kicking in—guys have maternal instincts too—and I love children. But most importantly I love giving back and helping others. I feel it is very important to give someone the basic platforms in life: opportunities, education, love – those are the things I'm thinking about.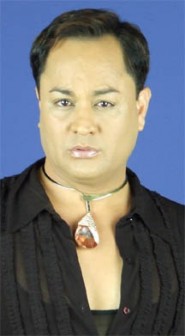 The Scene: People say they want to adopt a child but opt out because the process is long and time-consuming, will you?
Joel: I live a pretty single, lonely life and I know I can make a difference with this one child in this society. As I said before I love giving back, it is my need for wanting to adopt a child – give the child love, education, kindness. I know I cannot change the world, but I can make a difference by doing this one act of kindness. For people who are in the same position, those who are doing it already: My heartfelt love and caring for them.
The Scene: How do you feel about the odds being against you?  
Joel: I always hear stories of these little babies and children in the orphanages of Guyana – it just kills me, tears my heart apart to know that that is out there in our society. I am grown and I miss my family like crazy, with this I cannot understand how a baby does not want the need for a parent or someone in need for them – it pains my heart to know what is going on out there.
I feel that I have strong values, I can afford it, I have enough love, I am ethical, I am a good person, I have dignity and that is what I have to offer. Of course I will be a single parent but I can tell you for sure that they are homes out there with both mommy and daddy but they are constantly at war; the cheating and betrayal, lies and deception. Would a child prefer a loving, cherished single parent home with pride, class and education or a double parent warlike household which is detrimental to a child?
I feel that this society is missing out on a lot of things, instead of being critical of whom and what should adopt, we need to look at the big picture on what is needed, not what you want but what is needed. I don't think they should be picky, the child needs a loving warm home and I have everything to offer for a better environment.
 The Scene: Was this an epiphany or a well thought out dream of yours?
Joel: I think this goes way back to my upbringing, My parents were divorced when I was a little child and now I feel that it is instilled in me to give back, maybe it is in my subconscious to give a child the things that I felt I wasn't given enough of – I want to be that exception and give my all.
There was an instance years ago when I was shopping at Forgarty's and just outside the store there was a less fortunate woman who tapped my shoulder and asked for some assistance, in her arms was this little baby who could not have been more than one year old. I went back into the store and bought loads of clothes and goodies for the child. I even touched root with the family and made an attempt to adopt the child but they didn't wanted to hand over the baby.
The Scene: Do you have a preference of the child you would like to adopt? Age, Sex, Ethnicity…
Joel: I do know that I want a baby or a young child up to age five so I can nurture and groom but I do not care about gender or if he/she is black, yellow, pink, gold or what not. When I walk into the building I want an instant connection – I am not adopting colour, I am adopting a human being.
The Scene: Do you have any selected orphanages you would like to go to, where would you start?
Joel: I am very passionate about this and I would like to see a minimum of three orphanages in Guyana.
The Scene: What if the biological parents of the child appear on the scene? How would you handle it?
Joel: I have no issues getting to know the child's parents. I have no issues with the parent and the child being together and I have no problem if the parents want to be part of our lives because I understand that I am the adopted parent and can never really be the biological parent. I would never want to keep a child away from its real family, which would be like taking love away. If I want to really love the child I need to make the child as comfortable as possible.
If the parents want to play an integral role in the child's life they must understand the guidelines will be set by me, there might be flexibility but it goes back to the child, the child is always first. Once they understand the mission of the child is to make sure he/she is raised with a good education, good upbringing and strong integrity – once we can agree on that and they don't interfere in any way I have no problem.
The Scene: How would you react to the negative atmosphere that will surround you?  
Joel: The majority will call me names, they will say things about me and they will see the glass as half empty instead of half full. I am hoping they will see the genuine love but they will see it from a negative point of view. It doesn't matter who you love, once you love.
They are a few things I would like to talk about since it's the Holidays.
In my last interview we talked about me hoping to be a spokesmodel for the Guyana Society for the Prevention of Cruelty to Animals (GSPCA), I am happy to say that I have joined forces with them. I am willing to give my services free of charge and I even have some of my famous friends willing to be the voice of reason in this country. I have to voice my concern. We need to look at animal control, animal cruelty and animal use. Every day I am sick and tired of seeing people hitting animals, donkeys being used to fetch tons of heavy stuff – those days are long gone! They need to stop abusing the horses, hurting them.
Simple things like: instead of throwing food in your garbage and wasting it, why not give it to a stray animal?
I am passionate about this campaign with the GSPCA. I am reaching out to general public to have a heart and join the action, we all as a nation, a government and a people need to join in and do this.
I don't make empty promises. When something drives me, when I am passionate about something – It must be done, and to the best of my ability. I must give back.
One way I plan on giving back this season is to get together with some of my friends and colleagues, go to one of those elderly homes like the Psalms or Uncle Eddy's and do some reading, sing some Christmas carols and tell some good Holiday stories to cheer the folks up.
The holidays are about giving back and I would like to take this time to wish everyone out there Happy Holidays.
Around the Web