Hi Everyone,When Easter comes around many homes come alive with the fragrance of spices – in the cakes, buns, cookies and fruit breads that are the order of the day. High on the baking list are Cross Buns with their signature cinnamon-nutmeg-clove combination. This year it was no different at my place, but in addition to Cross Buns I made a tea bun that I've been itching to make ever since I first laid eyes on it in a book – The Real Taste of Jamaica by Enid Donaldson.
Simply titled, Easter Spice Bun, I bookmarked the page eagerly awaiting the arrival of Easter. Just as bun and cheese is popular in Antigua and Barbuda so too is it in Jamaica. Easter just would not be the same without loads of bun and cheese. It is a real taste of home for Jamaicans at home and especially those abroad.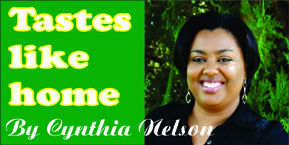 In Jamaica, each household that makes this national favourite has a preference as it relates to the leavening agent. Some like baking soda, others baking powder and another group prefer yeast. The Real Taste of Jamaica offers another option too – Easter Spice Bun with Stout. All four of the recipes in the book looked yummy but I opted for the one that is a favourite of the author's niece. Donaldson writes: "After making this bun and tasting it, you will know why." Oww, how is a person not to be swayed by such an endorsement?
After making the bun, gazing at its beauty and devouring it with thick slices of excellent cheddar cheese, words fail when it comes to description. When you chase it down with tea, coffee, mauby or an ice-cold soda, waves of pleasure ride your palette to unbridled satisfaction. Control and moderation are words that beg to be acknowledged as you reach for your, ahem, 4th slice (said in a voice barely a whisper). But you know what, don't take my word for it. Make the bun this weekend, get yourself some cheese and make sure to let it come up to room temperature so that you can enjoy the full flavour of the cheese.
Ready?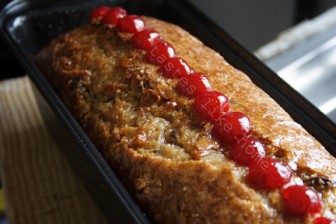 Easter Spice Bun
(Adapted from The Real Taste of Jamaica)
Yield: 1 loaf
INGREDIENTS
3 cups all-purpose flour
4 teaspoons baking powder
1 teaspoon freshly grated nutmeg
1 teaspoon ground cinnamon
A pinch of salt
1 egg, room temperature
1 ½ cups brown sugar
2 tablespoons melted butter
1 cup whole milk
1 teaspoon vanilla essence
1 heaped cup raisins
¼ cup dark rum
For Glaze & Topping:
¼ cup white granulated sugar
¼ cup water
12 – 14 Maraschino cherries, halved
DIRECTIONS
1.  Preheat oven to 350 degrees F with rack in the middle
2. Grease a large loaf pan and set aside.
3.  Toss raisins with rum and set aside.
4.  Add flour, baking powder, nutmeg, cinnamon and salt to a large bowl, mix thoroughly and set aside.
5.  In a medium bowl, beat egg until frothy then add sugar, butter, milk and essence and beat until fully incorporated.
6.  Add raisins and rum to egg-sugar-milk mixture and mix well.
7.  Pour the wet ingredients – egg, sugar, milk, butter, essence, raisins, and rum – into the bowl with the flour and spices and mix well until the batter is smooth; there should be no lumps.
8.  Pour batter into greased pan and bake for 55 minutes.
9.  Meanwhile add the ¼ cup water and ¼ cup sugar to a small pot and place on medium low heat. Stir until the sugar is dissolved and the mixture comes to a boil. Let boil for 1 minute and remove from heat and set aside.
10.  At the 55-minute mark, remove the bun from the oven and glaze with the syrup. Arrange the halved cherries, cut-side down along the middle of the loaf from one end to another. Brush again with syrup and return the bun to the oven and let bake for 5 minutes or until a skewer inserted comes out clean.
11.  As soon as the bun is removed from the oven, glaze again and let cool in pan for 10 minutes before removing and placing on a wire rack to cool.
12.  Serve at room temperature with slices of cheddar cheese.
NOTES
Instead of milk, you can use a cup of port or your favourite red wine.
Instead of decorating the loaf with the cherries you can add ½ cup of cherries, halved, to the batter by folding it in just before pouring the batter into the prepared pan.
Make the bun. Eat the bun. Enjoy the bun. Write and tell me about the bun.
Cynthia
Around the Web