Hi Everyone, Regardless of how much searching we do for new recipes to make at Christmas, it is always the old favourites that win our hearts and taste buds. After all, Christmas is about home, family, and comfort food. We eat the familiar, reminisce and awaken nostalgia. We compare our lives and the times then and now, and marvel at how the taste of simple things can transport us, hopefully, to happy times. Fond times.
Make today's recipe of custard which may seem rather ordinary in a season full of indulgence and richness and you'll marvel at how it stands out. It stands out not because of its simplicity but because it holds the power to evoke comments like: "Oh my… I honestly cannot tell you the last decade I had custard." Or, "My mother used to make this for us when…" or "Man, that is so old school, just like stuffed eggs."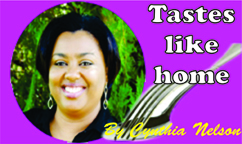 Remember what I told you when I wrote about stuffed eggs (aka deviled eggs) earlier in the year? People will scoff at the idea but they (stuffed eggs) are the first to go when placed on the table. Trust me, so too is the custard.
As your family and friends gather this holiday, make them something to bring them the comfort they seek, a taste that will linger long after the holidays and provide a new set of memories to cherish.
I'm not going to keep you too long this week. I know that it is the last Saturday before Christmas and you have lots to do, places to be and people to see.
Be safe. Be happy. Say a prayer for the less fortunate. Remember those who have lost loved ones this year… the empty chair at the table… Hold your loved ones near.
Merry Christmas Everybody!
BAKED CUSTARD
Yield: 3 (8 or 7 ¾ oz cup ramekins) or 4 (6 oz ramekins)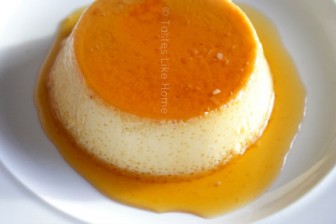 INGREDIENTS
2 cups whole milk
2 eggs, room temperature
4 – 5 tablespoons sugar (depending on how sweet you like it)
¾ teaspoon vanilla essence
1 tablespoon melted butter
2 pinches of freshly grated nutmeg
DIRECTIONS
1.  Preheat oven to 300 degrees F.
2.  While the oven is heating, bring a kettle of water to a boil.
3.  Warm the milk to 110 – 115 degrees F in a medium sized saucepan.
4.  Lightly beat the eggs and sugar together and then add to the milk along with the essence. Beat lightly to incorporate the ingredients. Set aside.
5.  Brush the 3 ramekins or ovenproof bowls with the melted butter.
6.  Strain the custard mixture into the ramekins/bowls.
8.  Transfer the ramekins/bowls to a large baking dish such as a 9 x 13" rectangle pan.
9.  Pour the boiling water into the pan until it comes half way up the sides of the bowls. Carefully transfer the baking dish with the custard to the oven and bake for 35 – 40 minutes or until a knife inserted comes out clean.
10.  Remove the pan from the oven and then carefully remove the ramekins/bowls from the hot water bath and place on a wire rack to cool completely.
11.  Serve at room temperature or refrigerate until ready to serve. This custard can be made a day or two ahead of serving.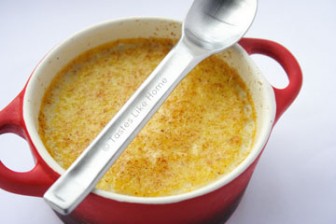 NOTES
Omit the nutmeg if you like and add ground cinnamon instead.
For even richer custard, use evaporated milk.
CRÈME CARAMEL/FLAN
This is another type of custard, which is sure to draw rave reviews from your guests this holiday. It is very popular in the Spanish-speaking Caribbean.
INGREDIENTS
For Caramel:
¾ cup white granulated sugar
For Custard:
1 x 14 oz. can condensed milk
2 cups whole evaporated milk (or 2 x 8 oz cartons of evaporated milk)
4 eggs, room temperature
¼ teaspoon ground cinnamon
¼ teaspoon freshly grated nutmeg
1 teaspoon vanilla essence
DIRECTIONS
Preheat oven to 350 degrees F.
For Caramel:
1.  Add the sugar in an even layer in a saucepan on medium low heat. Let the sugar melt until it turns golden. As soon as the sugar melts, pour into ramekins swirl to coat the bottom and sides – you'll have to work quickly as the caramel will begin to harden, however, if it hardens before you are able to swirl to the sides, don't fret, it will still turn out perfectly. Set aside to cool for 10 minutes.
2.  While the caramel is cooling, bring a kettle of water to a boil.
For Custard:
3.  Add all the ingredients to a large bowl and whisk until well blended, however do not beat to froth, as this can affect the texture of the flan.
For Flan:
4.  Place ramekins or ovenproof bowls into a large ovenproof baking dish or pan.
5.  Using a large sieve, pour custard mixture into a large measuring cup or a jug with a sprout and fill individual ramekins.
6. Pour boiling water into the baking pan until it comes halfway up the sides of the ramekins. Carefully transfer the pan to the oven and bake for 35 – 40 minutes or until the custard is set or a knife inserted comes out clean.
7. Remove the baking dish from oven and carefully remove ramekins from the hot water and let cool completely on a wire rack. Refrigerate overnight or for at least 9 hours before unmolding.
8. To unmold, run a paring or dinner knife along the edges and around the sides of a flan. Take a dessert or salad plate and place it face down on top of the bowl/ramekin. Hold the plate and bowl/ramekin and flip upside down, so the plate is now at the bottom and the bowl/ramekin is at the top. The flan releases with the caramel gushing luxuriously over the plan. Serve.
NOTES
Do not use brown sugar to make the caramel as it will be difficult to gauge the colour of doneness for the caramel.
The crème caramel/flan has to be properly chilled/cooled before unmolding.
Optional garnish – a sprig of mint.
Cynthia
Cynthia@tasteslikehome.org
Comments

Hi Everyone, Several years ago while standing in the cashier line at one of the supermarkets here in Barbados, a man (tourist) standing immediately behind me pointed to the small tray I had just put on the cash belt and asked what it was.

Hi Everyone, What's Cooking is a series in which I answer questions and share advice about food and cooking that you may have but are too shy to ask.

Hi Everyone, Have you had your fill of mangoes yet? Me? Almost. Next week I am going in to preservation mode – pureeing the pulp and freezing in half cup portions for use later in the year.

Hi Everyone, This is the third and final part of our heat series on hot peppers.

Hi Everyone, This week, we continue our heat series featuring hot peppers currently in season.