Just over a week after his multi-million dollar Laluni Street dental surgery was robbed by gun-toting bandits, Indian national Dr Soumi SenGupta told Stabroek Business that the experience will not deter him from pursuing his mission in Guyana.
"I see the robbery as a frightening experience that has taught me many lessons," quips the 45-year-old British-trained dental surgeon. "We cannot choose what happens today but we can choose how we respond tomorrow. After 19 years in the Caribbean, Guyanese are the warmest, most accommodating and most appreciative people I have met. I am here to stay."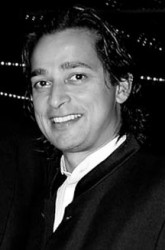 SenGupta, who qualified at the University of Dundee in Scotland, opened his Laluni Street surgery in November last year after travelling to Guyana intermittently for the previous six years to offer specialised services.
"My primary focus is in the treatment of adults wishing to have tooth replacement and cosmetic dental procedures," SenGupta told Stabroek Business.
"I have been trained in the US in advanced dental surgical procedures."
SenGupta is currently pursuing further specialist training in the United States, and is registered to practice in several Caribbean countries and in Europe. He said that apart from his "primary office" in Antigua, where he has been in practice for several years he also operates a satellite office in Saint Lucia.
During the course of the interview on Monday, the dental surgeon made no reference to his harrowing experience of a few days earlier. Instead, he spoke of his role as a lecturer at the University of Guyana and his outreach dental work in Guyana. He said that through his teaching at the university's dental school he is raising the bar for many young future Guyanese dentists with the contemporary procedures.
Earlier this month, SenGupta was involved in arranging a lecture at the Cheddi Jagan Dental School by eminent Florida-based dental surgeon Dr Larry Grillo
A week ago, staff at the institution undertook a three-day outreach programme to Santa Mission to provide dental education and basic dental care. The same team provided similar services at the Holy Rosary Church in Georgetown last week.
"It is my intention to continue this activity in Guyanese communities through the office in Guyana," SenGupta said.
Around the Web