At 32, Traceann Boodie presents herself as an 'old head,' a woman focused on making a living in an industry still almost thoroughly dominated by men and one in which the rules of the game are radically different to those that apply in the more sedate urban business arena.
Three years ago she uprooted herself from the more austere world of marketing, a pursuit in which she was engaged in Barbados, to take her first plunge into the interior of Guyana. Initially, she did so as a partner in a relationship serving as a cook and shop assistant in an already established business. That phase of her encounter with 'the gold bush' ended after she outgrew her partner.
Her mother, who now resides in Barbados and who serves as minder to her 13-year-old son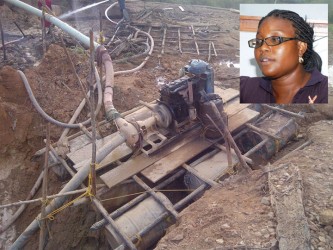 had taught her to cook as a girl and on her own she sought to apply those skills, providing 'three square'  for the 'punters' freelancing in the Omai area. "I worked 20 hours a day and went without much sleep. The men had to eat and it was good business," Boodie says.
Whatever else you may be doing in the interior it is impossible not to be affected by the reality of gold. Over time, value in mining communities has come to be measured in gold so that it is by no means uncommon to price a service in the sector in terms of pennyweights of gold. "That was where the real money was," Boodie says.
The details of her expansion from shop proprietor to miner are explained in a blur. It was, it seemed, a matter of learning by listening and learning and by cultivating strategic friendships. These days she continues to provide meals for miners though her improved circumstances now allows her to retain hired help. At the same time she has moved on, acquiring a $4.5 million, 6-inch dredge which she operates with a staff of eight employees.
Still, she retains an enduring sense of ordinariness, still ranking herself amongst the country's small miners. She has plenty of stories to tell about the times when she hired land cruisers to fetch her ration to her work site. A trip cost $100,000. A truck usually cost more. These days, she talks glibly about hiring excavators at a cost equivalent to six pennyweights of gold per hour and buying fuel at upwards of $50,000 per barrel. Her graduation, it appears, is complete.
Boodie remains acutely aware of her gender in what she believes is still 'a man's world'; her outlook is by no means feminist. She prefers to be an advocate for a leveller playing field. She believes that whatever your gender the scales in the goldfields are weighted in favour of the big players. That, she says, has to change.
It is her own circumstances that have shaped her outlook. She owns no land in the interior and has never been lucky to be allocated a claim under the Guyana Geology and Mines Commission's (GGMC) lotteries. She says that while the lotteries are advertised as opportunities for small miners it is by no means uncommon for much larger mining operations to participate in the drawing of lots for claims.
When she talks about what she believes is the disproportionate allocation of mining lands she grows serious, even intense. She believes that the interior of Guyana offers economic opportunities for coastlanders who may not have "made it" in the city and elsewhere and that those who take the plunge have more than earned the opportunity to make a living.
While she is not a member of the Guyana Women Miners Organisation, she is aware of what she says is the gradually increasing impact of women on the sector. Some, like her, have graduated from cooking and being helpers in various other ways. Others wield greater influence. Her own outlook is that of a 'hustler,' seeking opportunities here and there and making the best of openings as they come. She explains that in May this year, after falling gold prices had begun to affect her operations she diversified into women's decorative accessories, establishing a small shop in the building housing the Channel Six Television Station. The investment is yet to pay any significant dividends but she is prepared to be patient.
By no means a tree-hugging environmentalist, Boodie is nonetheless an advocate of what she describes as "good sense and good order". Her basic philosophy is that if the law requires miners to clean up after themselves then that is as it should be. Still, she believes that the mining community as a whole is misunderstood. "Most miners would comply," she says. "We do not always do it right but we would if we get help."
Around the Web