In recent weeks, probably propelled by fading hopes for "a new day" with our new Parliament, we have seen some stirring letters to the press citing Guyana's diverse difficulties and calling for the citizenry to become more socially active. In a very prominent letter, eloquently declaring his distress, Joe Singh laid out the scenario effectively noting, among other things, the "fissures within the fabric of our society along the fault lines of politics and ethnicity" that continue to bedevil us.  Joe's description of our situation as "becoming unacceptably claustrophobic and debilitating" must have resonated with many people in this country.
Columnist Ravi Dev has expressed similar concerns, proposing a federal solution. We saw Hubert Roberts suggesting the revival of the Guyanese Action for Reform and Democracy (GUARD), and another writer brought up the possibility of a Truth and Reconciliation Commission to relieve ethnic tensions. Eusi Kwayana, as his wont, added valuable weight to the debate.

In the wake of these expressions, Emile Mervin wrote praising the output but then going on to ask the "what next" question.  Emile's suggestion for "ideas" instead of polemic is pertinent to this process because ultimately it is where the conversation of change stalls.
The letters cited above and others are coming essentially from individuals concerned with the state of their country and understandably anxious for change, but the folks to whom they are writing, the ones they have to galvanize, don't know where to go, who to talk to, what to do, to make change.  There is no defined path. That situation is behind Emile's comment.
Civic transformation in a country takes place in diverse ways.  It can come from a charismatic individual who almost single-handedly manhandles the problem, sometimes in perilous circumstances (Fidel Castro, Juan Peron, Bobby Kennedy) pulling the people along with the issue.  Caesar Chavez, in his struggle for farm workers' rights in the USA is a prime example.  By the very nature of their approach, such leaders are rare.  We don't seem to have such a unique leader among us.
Change can also come from a community group such as we had at one time with the village councils where citizens could come together and air grievances and agitate for responses.
This apparatus, dispersed during the socialism years, is not much in play either, and the form that replaced it has become politicized over time.
Change can come from institutions commonly seen in developed societies (human rights, civil rights, environment, justice, commerce, etc) where attention can be raised in specialized areas and significant measured pressure can be placed on the establishment for change.
Again, many such institutions in Guyana have become inactive or even neutered in the past 30 years so that we are lacking this lever in the effort to make change.
Change can come via international pressure from governments that have an economic or political stake in the country involved.  Obvious recent examples of this are in the oil-rich countries (Iraq, Iran) and in the changes in Middle Eastern dictatorships around them.  Guyana is not in that category; once we don't start invading anybody (also unlikely) our problems don't rise to the level of concern for a Washington or a London; they have no economic stake in us.
Personal change can also come from individuals taking responsibility to fix things in their own circle of influence, 5 or 6 persons say, and while there is some merit in this the prospects of national change will remain minimal unless a mass movement catches fire, like the American youth protest of the American war in Vietnam.
Our history, after the slave uprisings, shows no such focused movements.
Occasionally, it can come from an incident as in the horrific mass killing of young children in the USA that galvanized latent concerns about the prevalence of military weapons in common use there.  It will be interesting to see, for example, if the recent tragic loss of life in the Mazaruni will be the incident that finally pushes us here to enforce mandatory life vests for river boat passengers.
In short, the evidence suggests that, some "incident" aside, we will continue to be hampered in this concert for change because we don't have the mechanisms, or at least any with enough clout, to bring effective pressure to bear on successive governments or opposition MPs.
The voices being raised, many of them movingly so, remain generally an individual push; significant change will require the emergence of institutions and civic groups with the clout and the resolve to be activist, to become levers, and that development will require time and patience and personal involvement by many while the problems fester. Ultimately the single voice achieves little beyond the satisfaction of the shout. Whether criticizing the Government or the Opposition, they can be dismissed, and are dismissed, mathematically – they don't represent numbers.
The attitude is there, comically but realistically, in the famous retort from former Trinidad PM Eric Williams reacting to the calypsonian The Mighty Chalkdust who wrote stinging critical calypsoes about Williams and his PNM party.  Asked for a comment on the singer, Williams said, "Let the jackass bray."   If Chalkdust had been one of a number of people complaining in unison, Eric Williams would not have dared to dismiss them with "Let the jackasses bray."
The alerts by Joe Singh and others are valuable and are to be commended, but the point by Emile Mervin remains.  Until we have channels or groups or institutions representing large numbers of people, coming to these issues, the chances for significant or radical change will remain low.  The arithmetic is against it; we simply don't have enough numbers shouting.
Given our recent history, it would be natural for us to be sceptical that such mechanisms will emerge, but without them the powers that be can continue to pay scant attention to the individual shout. In the final analysis, change is about leverage.
Comments
CARACAS/HOUSTON (Reuters) – Venezuela's unraveling socialist government is increasingly turning to ally Russia for the cash and credit it needs to survive – and offering prized state-owned oil assets in return, sources familiar with the negotiations told Reuters.
By Carl Bildt CHICAGO – We are now in the final days of the industrial age.

During Men's Health Week, the man/woman in the street were asked to speak on their lifestyles and what they do to maintain their health or to encourage their significant others to lead healthy lifestyles.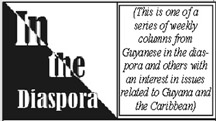 By The Caribbean Voice There are no reliable statistics on the amount of persons engaging in the use of illegal drugs or those described as addicts.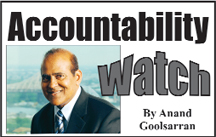 In last week's article, we referred to the two recognized methods of accounting for costs relating to the exploration, development and production of crude oil and natural gas: the "successful efforts" (SE) method and the "full cost" (FC) method.