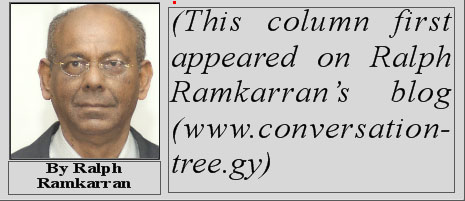 Former PPP executive Ralph Ramkarran says the hostility exuded by the PPP to the opposition at the recent party congress in Port Mourant can only mean that fresh general elections are being planned.
In a column to appear in tomorrow's Sunday Stabroek, Ramkarran said:
"… with the unanimous adoption of the Central Committee Report by the PPP's Congress, it has to be assumed that the PPP believed that open hostility is better suited to its plans. And what could those plans be? The only possible answer is that the Government is planning elections soon. This is speculation but there is no other rational explanation for its impolitic assault on the Opposition one week before one of the most important parliamentary votes in the history of Guyana when Opposition support is crucial. If this speculation is contradicted by efforts to persuade the Opposition to reverse its position, then the only other conclusion is that the PPP has been astonishingly reckless. The first parliamentary act after the Congress was the postponement by the Opposition of the vitally urgent money laundering legislation.
"Different political conditions since 2011 required thinking outside the political box. Proposals for a new relationship with the Opposition based on greater and more structured collaboration could have ensured a more productive future. The Central Committee did not rise to the occasion. And the abuse was superfluous because the public had heard about the alleged perfidy of the Opposition ad nauseam for years and up to the very recent past.
"Apart from the damage the attack will do to Government/Opposition relations, the intensification of gridlock and the creation of a lame duck Parliament and Government, no serious investors will engage Guyana in this political climate of intense friction which is now likely to get worse.
"With the failure of Amaila, going to elections is the only feasible option for the PPP. This major defeat for the Government together with the poisonous political climate suggests that the increased political bloodletting will make the PPP and Government appear even weaker and will induce more apathy among its supporters. New elections will settle the issue of whether the loss of the absolute majority by the PPP in 2011 was a one off event or whether it will, at least for a time, be a feature of our political architecture. If the former, we can expect a return to a past of short shrift being given to the Opposition and all other independent voices. If the latter, the PPP will find it difficult to continue to defy the popular will."
Around the Web