Could our Guyanese nation resolve to make 2013 the best year in our history?
Given the way we govern ourselves as a people, the question may provoke cynical scepticism rather than an inspired resolve to indeed make this our best year yet.
Let's be positive, optimistic and solution-oriented. Let's make a list of a few achievements that would make 2013 the best year in the history of the Guyanese people.
Restoring the Garden City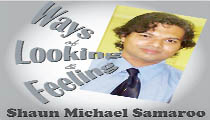 First, we must restore our capital city, Georgetown, to its glory as a Garden City. We want a clean, well-drained, landscaped city.
Apart from the health benefits, such a city restores to Guyanese a sense of aesthetics and beauty.
But it also makes perfect economic sense, for if we could clean up Georgetown so that it becomes the Garden City of the 21st century Caribbean, we would attract scores of tourists. People would want to visit us, from all over the world.
We would become the oasis of aesthetics on the edge of the Atlantic Ocean. All it takes to achieve this is the resolve to make it happen.
Maintaining a murder-free society
Of course, to operate a 21st century city of class and sophistication, to attract tourists from around the world, we need a secure society.
Let's resolve to clean up the law enforcement and justice sectors so that we eradicate murder from our Guyanese society.  We could resolve to set a goal of zero murders in this country this year. To police half a million people, a few of whom are violence-prone, should not be such an impossible challenge. We could achieve a murder-free nation.
Cleaning up the traffic chaos
People also want smooth-flowing, easy to traverse public spaces. Our transportation situation must be cleaned up.
In fact, we want to see zero road deaths this year. According to the statistics, we average around 200 road deaths per year in this country. A lot of that comes from reckless, dangerous driving, or drunken carelessness.
We can and must eradicate road deaths in this country this year.
This calls for innovative leadership from the authorities – to maintain our roadways, to punish errant drivers, to prevent lawlessness on the road, and to control the minibus sub-culture.
Restoring the national literacy rate
Our national literacy rate has fallen from its one-time high of 98 percent to less than 25 percent today, a rather shameful plunge under this Government.
We must resolve to restore our public education system to its place of pride and excellence among the nations of the world.
We have to go back to the basics of reading, writing and thinking. We had expected innovative and ground-breaking leadership from the new Education Minister, Ms Priya Manickchand, in 2012. The Minister failed to make a mark.
Hopefully, this year we would see her resolve to take leadership and shape this nation's children for a future as a knowledge society.
Cleaning up public accountability
Government must resolve to run a clean financial ship, and to see to it that the Auditor General's Annual Report for 2013 is the first to praise Government for its professional management of our public treasury.
This year we want to resolve to see every dollar earmarked for public works be spent wisely, prudently and with the citizen in mind rather than "contractor" friends and cronies of corrupt characters holding power.
State incentives for citizen initiatives
We want to encourage and equip citizens to exercise their innovative thinking and initiative to solve local community problems, and to contribute to the leadership and development of their community.
The State must resolve to grant tax and duty-free incentives, along with international aid and grants, to encourage citizens to exercise their initiative to aid community development.
With the right incentives, citizens would plant every inch of fertile ground they could, and rear livestock and landscape their front yards.
With State leadership, we must resolve in 2013 to see citizens all across this land become entrepreneurial in life outlook, looking to launch small businesses and converting their knowledge, skills, life experiences and expertise into "mom and pop" enterprises – even seeking to link through the web with the global marketplace.
Citizens would even paint their houses and beautify their yards along the miserable-looking East Bank Demerara corridor so when foreigners visit our land they come to a place filled with aesthetic wonder.
All it takes is visionary leadership from the leaders sitting in Cabinet and Parliament to empower citizens to care for their environment and their personal development.
Restoring our morals and ethics
Fostering a society of strong morality and excellent ethical behaviour should be a foundation resolution for us as a nation in 2013.
As we see in our public spaces, around the markets, on the streets and even emanating from our neighbours' houses, the Guyanese nation generally lacks a deep sense of personal decency.
People cuss at will, speak loudly of harsh and unspeakable acts, and treat each other with rudeness and uncouth disrespect.
If we want 2013 to see us become a world class society, we must resolve to instill in our children through the education system, and in our adults through community outreach programmes in churches and community centres, that sense of personal pride, dignity and an instinctive respect for social graces.
The global nation
We have become a global nation, with Guyana the homeland, and nearly every country on the earth harbouring migrated Guyanese.
So at home we must see ourselves as the soul of a global people, a nation that has come into its own after four decades of political independence.
Thus, we want to see the leaders in the homeland act with class, wisdom and global leadership – to bring dignity to the Guyanese brand.
We start this new year matured, experienced, with a sound history to guide us. We are a smart people, an innovative and accomplished nation, with our sons and daughters excelling all over the world.
What's stopping us making 2013 the best year yet for the Guyanese homeland?
We lack visionary leadership, but we can overcome this massive obstacle to join hands, to make our Guyanese nation an outstanding 2013 success story.
Comments

We now mark the fifth anniversary of this column in this exemplary, nation-defining newspaper, and it's been an inspiring, beautiful journey.

We experience life, see our days, hear emotion and meaning when we interact with others, according to our presupposition, that unconscious window through which we see the world, each person's point of view unique, each one's frame of reference of a different shade than any other.

Our nation's main wealth lies in the human capital of Guyanese; the skills, talents, knowledge, energy, initiative and creativity of each individual.

So easy it is to fall under an oppressive cloud in this society, focused on inconsequential stuff, ignoring the beauty of our human potential.

Word on the streets is that people across this nation react with caution and pessimism to the political backdrop existing in the country.