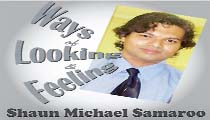 Electing leaders for villages, towns and the city offers Guyanese exciting prospects.
Such opportunity, denied the citizen for close to 20 years, offers everyone the personal power to determine who governs their neighbourhood.
From among our neighbours, family and village folks, we could actually choose the best among us to lead us, to spearhead local development.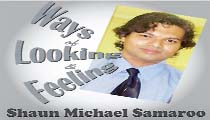 Citizens welcome the news out of the fractured Parliament that local government elections will likely be held this year. For the city and the hundreds of villages and towns across the land, we'll see new leaders emerge.
After foreign diplomats from the major aid nations made a joint international appeal, Government and the Opposition suddenly found the inspiration to make a unanimous commitment to make sure the people could elect their local leaders before year-end.
Let's hope the Parliamentary Committee finishes its work in  a snap, and that Parliament passes the necessary laws to make this happen.
We hang our head on the world stage in utter shame that our local communities have gone two decades without elected government.
Although details of the snag that held up those crucial elections for so long remain sketchy, it seems the Opposition and Government disagree on the extent of political power local communities should exercise.
The Government hardly tries to make it secret that it loves a governance system of central control. The party in government backs away from sharing any kind of political power. It believes it knows best, and wants to dictate from the top. It shuns citizen power.
But local communities need autonomy, freedom, the ability to think and explore development opportunities.
We cannot expect Cabinet to know perfectly what works for local communities.
Across this country, people face all manner of challenges, problems, and hardships. They want the political power, inherent in their local government, to come up with workable solutions.
Central Government must allow our communities to explore solutions, to try things, to experiment with ways of solving social challenges.
Throughout our history, Guyanese have shown we are an innovative people. We solve problems. We exercise initiative and creativity to overcome social ills.
In fact, given the blessed nature of our country's landscape and the abundance of natural resources and the ingenuity of our people, it has become a strange enigma that we remain languishing with Haiti and Nicaragua at the bottom of the poverty scale.
We must allow our citizens to think, to create, to innovate, to use personal initiative to solve local problems.
In Government's paranoia to maintain central political and economic control, it has choked off social development at the local community level.
Central Government, focused on the macro-economic front, ignores local development. So we see roads, village streets, community health care centres, recreation centres, all fall apart.
Citizens across this country, in fact, feel helpless, unable to play a role in developing their country. That sense of personal responsibility is lacking.
Everyone looks to Central Government to clean up the mess. And Government encourages this nonsense, maintaining an omnipotent presence in the affairs of our local neighbourhoods.
Ironic it is that we find ourselves in this state, because a son of our soil, Sir Shridath Ramphal, led a global team at the United Nations in the late 1990's to draft a blueprint for global governance. Known as 'Our Global Neighbourhood', the blueprint presented an ambitious plan to reform how political power is exercised.
Yet, in his own backyard, his homeland, we could not get our neighbourhood governance system working.
Our nation has ready access to experts, visionaries and technical skills. Yet, we find ourselves sitting, like poor victims, awaiting the benevolence of Parliament, to improve our local communities.
It would be very interesting to see what the new local government laws look like, once Parliament enacts the new system.
We want to see the doors open for local communities to attract, directly, investments, innovative leadership, economic partnerships and social solutions.
We also want to see the Diaspora play a dynamic role in linking with their home community, much like is done for schools, where overseas Guyanese form global alumni associations to raise aid for their old schools here.
To tackle the tragedy of our lack of experts and skills across this country, we want to see the door open for skilled Guyanese in the Diaspora to play a role on community governing councils.
Through local communities and the Diaspora forming partnerships, economic programmes, social movements and innovative synergies, we would see a great leap forward in our villages, towns and city.
One harbours cautious optimism, however, as we see so little visionary leadership coming out of Parliament and Central Government.
As promising and exciting as the news of local government elections this year sounds, citizens must be vigilant and play a dynamic role in the development of the local governance system.
We have seen no input from the Private Sector, the Social Sector or the Diaspora in these new laws. It is all left to a few Ministers, with token input from a couple of opposition Parliamentarians sitting in a Committee.
Of course we'll see the National Assembly debate the new state of play once the Bill is ready, but citizens want action. Guyanese want the inspiration of waking up every day to know that their little village is theirs, not lorded over by some suited official.
Citizens want to play their part, to be able to call up the local Chairman or Council member and chat about a problem, or offer a solution.
Everything in this country is so centralized – our media, Government, State services, social programmes.
Our local communities once housed community centres. Many of these fell into waste. Even many health centres do not function well, with central control from the Ministry of Health, a definite dead weight.
So, as exciting and encouraging as the prospect is for local government elections this year, citizens remain sceptical, wary and with that awful feeling of being politically helpless.
Let's hope Parliament surprises the nation again with new local government laws that empower citizens to build their neighbourhoods with their own hands, initiatives, ideas, partnerships and citizen power.
Around the Web