Guyana Review: Take us back to your formative years as a writer.
Ras Leon: I was first a primary school teacher, then an Accounts clerk in the Ministry of Health before becoming an Information Officer in the Ministry of Information and Culture. Later I worked at the Chronicle as a Senior Reporter Those were heady days.  I recall Carifesta '72. That was a landmark event for Guyana and the Caribbean. That was also the time of  National Service, self-reliance and cooperatives… The Burnham years as they were called.
Guyana Review: Did the absence of strong independent media shape your own outlook as a journalist?
 Ras Leon: Yes. There was a lot of political control of the media and interference in the state media by Ministers of the Government… the same as persists today. Because of that condition, I utilized my training as an actor to, satirize and entertain listeners about everyday happenings in Guyana. This is stuff that was dramatized. My production "For Better…For Worse" in 1980/81 was the story of what was happening iun the society.
 Guyana Review: Leon Saul the journalist became Leon Saul the playwright. Tell us about the transition and how it came about,
 Ras Leon: Having won a "Best Actor" award at the Theatre Guild for my portrayal of "Led" in Alwyn Bully's "Nite Box", directed by Ron Robinson, I was asked to produce the radio serial. Before that, I had never written anything dramatic for stage or radio. Now, having to write 125 episodes of a radio serial that was broadcast twice a day you tend to develop some sort of skill at story-telling. So, "For Better… For Worse" became a popular radio serial and then a  stage play. I followed up with another series called "Don't Feel No Way," and then "War" after which came "Berbice Uprising" in the early 1980s.
Guyana Review: Were those your best creative years?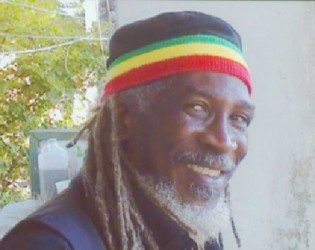 Ras Leon: In many respects those formative years were seminal and important because I was brimming with creative energy. While living in Toronto I did work there that was not fully recognized. Apart from being a playwright, director, producer and actor… I also published a monthly cultural and entertainment newspaper called "Uprising International" for 17 years, produced music and ran my own music label… also called "Uprising."  I believe that my best creative days are still ahead of me.
Guyana Review: It has been said that there was a period during which you may have opted out of mainstream society. True or false?
 Ras Leon: Yes, that's true. it's true. I went into a sort of self-exile after a false accusation and charge of robbery under arms in 1981. My Attorney, successfully mounted a no case submission and after winning my case I migrated to Canada in August 1986 where I applied for refugee status on the grounds of religious and political persecution. My application was successful. And I lived in Canada for 25 years. I am now a Canadian citizen but I opted to remigrate to Guyana in November 2010 after an unsuccessful bid to become a Councillor on the Toronto City Council.
Guyana Review: What are your views about the development of theatre in Guyana over those years?
Ras Leon: Theatre has grown. In May 1981, I adapted "For Better… For Worse" for the stage and its production then at the National Cultural Centre. That marked the beginning of commercial stage productions. Since then it has blossomed. There is also a fledgling system of grooming talent  undertaken by the Theatre Guild and the Ministry of Culture, Youth and Sport. Now, there is the successful staging of the annual National Drama Festival. Theatre audiences have also grown though the quality of theatre needs to improve.
  Guyana Review: Has the Guyana Prize for literature contributed to the strengthening of our local literary tradition?
Ras Leon: I'm not sure. There is too much politics in the process. There is no real follow-up to the Awards in terms of support mechanisms to assist artists and writers… like the British Council, the Canada Council. We need a Guyana Council of the Arts, from which artists, writers, poets, dancers, painters can access various forms of support.
Guyana Review: Sometime during the 1980s we began to hear about Ras Leon. Tell us about that transition?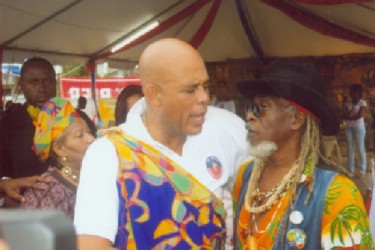 Ras Leon: I got a spiritual call. from the Most High God, Jah Rastafari. At the time, I was writing at the Chronicle a regular Sunday column on culture.
Guyana Review:  How has Rastafari shaped your social, spiritual and intellectual outlook?
Ras Leon: Rastafari gave me a new lease on life. I lost friends and gained brothers and sisters in the faith. It has positively influenced what I write and my reflections in my plays and my music… especially my drumming and dub poetry. Spiritually, I've become stronger and my faith is growing.
 Guyana Review: Where is Ras Leon today as far as his literary pursuits are concerned?
 Ras Leon: At present, I'm continuing the stage production of "Berbice Uprising." I have submitted several poems to Petamber Persaud to be part of an anthology  soon to be published by the Ministry of Culture, Youth and Sport through the Caribbean Press.
At present, my vision is for my present company – Carib Feedback Productions to establish its own production complex that would include theatre performance space, recording studio and publishing house.
Around the Web